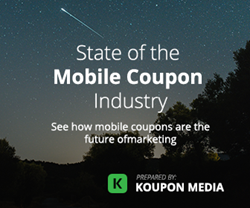 Consumers are using their smartphones more while they're shopping, and mobile coupon usage is growing as a result.
Dallas, TX (PRWEB) January 26, 2016
Today leading mobile coupon platform Koupon Media released its 2016 State of the Mobile Coupon Industry report.
The report affirms the growing trend reported by eMarketer that the number of consumers in the US who used a mobile coupon in 2015 grew 18% to 92.6 million. The data found in the report also points to the rise of mobile coupons in mobile marketing:

42% of mobile users have used a mobile coupon
39% of customers spend more if they receive a personalized coupon
60% of customers would adopt mobile payments if offered coupons
In 2015 Koupon Media offers drove 20 million total store trips and $100 million in revenue for brand and retail partners
"Consumers are using their smartphones more while they're shopping, and mobile coupon usage is growing as a result," said Bill Ogle, CEO of Koupon Media. "In 2015 we doubled the number of coupons delivered on our platform. The fact is mobile coupons are easier to use than paper or print-at-home coupons and more retailers accept them than ever before. It won't be long before the mobile coupon outpaces paper coupons altogether."
The redemption data in the report focuses on c-stores, a vertical that is showing some of the largest growth in all of retail. Data in the report points to energy drinks, soda, and juice as the highest redeeming categories for mobile coupons.
According to the report, the number of offers delivered by Koupon Media doubled in 2015 bringing the total number to more than 500 million. "Depending on the category, we are seeing redemption rates at over ten times the average of a paper coupon," said Charlie Lang, VP of Product and Research for Koupon Media. "Mobile coupon redemption is driving double digit sales growth for brands and retailers during a campaign versus pre-campaign sales. This clear demonstration of ROI is why some of the world's largest brands and retailers use our platform for mobile campaigns."
About Koupon Media:
Koupon Media is the world's largest mobile coupon platform, with over 40,000 retail stores using our technology to target, distribute, and redeem traffic driving, in-store offers. We partner with the largest package good's brands and retailers to deliver mobile offers that are 10x more effective than traditional paper coupons, and have distributed over 500 million offers to date. For more information, call 214-377-1280 or visit us at kouponmedia.com.