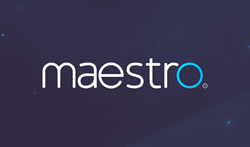 Maestro's proven results in gaming, music, fashion, and sports make it widely applicable to the industry leaders gathering in Austin for this prestigious event.
SAN FRANCISCO, CA (PRWEB) January 26, 2016
Maestro.io, the premier marketing tech platform for broadcasters, was selected as a finalist in the Entertainment and Content Technologies category for the eighth annual SXSW Accelerator competition. The accelerator, presented by 24/7 Intouch, is the marquee event of SXSW Interactive Festival's Startup Village, where leading startups from around the world showcase some of the most impressive new tech innovations to a panel of hand-picked judges and a live audience. Out of the more than 470 companies who applied to present at SXSW Accelerator, Maestro.io was selected out of 48 finalists in six different categories.
The two-day event will be held the first weekend of SXSW Interactive, Saturday, March 12 through Sunday, March 13, on the fourth floor of the Downtown Austin Hilton. The pitch competition will then culminate with the SXSW Accelerator Awards Ceremony on Sunday evening, March 13, where winning startups from each category will be announced and honored. The Accelerator competition will feature finalists across the following six categories: Enterprise and Smart Data Technologies, Entertainment and Content Technologies, Health and Wearable Technologies, Innovative World Technologies, Payment and Fintech Technologies and Virtual Reality Technologies. The 2016 SXSW Accelerator Category Sponsors are Brother (Innovative World Sponsor) and Allscripts (Health and Wearables Sponsor), with Prezi serving as the official presentation platform for the competition.
Maestro.io will present alongside seven other companies in the Entertainment and Content Technologies category at 12:30pm CT on Saturday, March 12th.
Maestro provides engaging video experiences that drive user action, sponsor & transactional revenue, and robust data collection for business-minded broadcasters. Customers layer Maestro over platforms like YouTube/Twitch to amplify viewership while maximizing return on investment within their own properties.
"Maestro's proven results in gaming, music, fashion, and sports make it widely applicable to the industry leaders gathering in Austin for this prestigious event. We are looking forward to participating and showing broadcasters how they can deliver new experiences that accelerate their business growth around video," said Ari Evans, Founder and Chief Executive Officer.
"In the past seven years we have seen some of the most innovative startups compete in SXSW Accelerator. They have caught the eye of investors and leading technology companies, as more than 65 percent have gone on to receive funding in excess of $2.6 billion and 13 percent of the companies have been acquired," said SXSW Accelerator Event Producer, Chris Valentine. "Of the more than 470 companies that applied this year, we've narrowed the field to 48 finalists. The SXSW Accelerator is without a doubt the place to witness the most innovative startups pitch their ideas for solving some of today's most challenging problems through technology."
For more information about SXSW Accelerator and to view the complete list of finalists, visit the following site: http://www.sxsw.com/interactive/awards/accelerator.
# # #
About Maestro.io
Maestro.io provides interactive video channels by combining live and on-demand content with real time community engagement. Live streamers, content producers, and brands easily set up and run channels with a customizable interface, simple CMS, and powerful set of broadcast tools: polls, trivia, calls to action, social curation, chat, sponsor collateral, and more. These experiences connect content creators with their fans like never before while collecting valuable customer data along with analytics and marketing tools to more effectively grow communities. Current and past Maestro clients include PlayStation, ESL, Capcom, deadmau5, Electric Daisy Carnival, Above & Beyond, Ironman, Monstercat, and OWSLA.
About SXSW Interactive
The 23rd annual SXSW Interactive Festival returns to Austin from Friday, March 11 through Tuesday, March 15. An incubator of cutting-edge technologies and digital creativity, the 2016 event features five days of compelling presentations and panels from the brightest minds in emerging technology, scores of exciting networking events hosted by industry leaders and an unbeatable lineup of special programs showcasing the best new websites, video games and startup ideas the community has to offer. From hands-on training to big-picture analysis of the future, SXSW Interactive has become the place to discover the technology of tomorrow today. Join us in March 2016 for the sessions, the networking, the special events, the 18th Annual SXSW Interactive Innovation Awards, SXSW Accelerator®, the SXSW Gaming Expo, the SXSW Trade Show, the SX Health & MedTech Expo, SX Create, The Job Market, cross-industry conversations with attendees from SXSW Film, and SXSW Music, and, most of all, the unforgettable inspirational experiences that only SXSW can deliver.
SXSW Interactive 2016 is sponsored by Esurance, Mazda, Monster Energy, Capital One, Bud Light, Deloitte Digital, McDonald's, Ten-X and The Austin Chronicle.