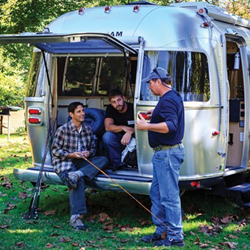 Memories by the mile.
Atlanta, Georgia (PRWEB) January 26, 2016
Georgia's largest indoor showcase of motorhomes, campers and RVs opens Friday January 29th through January 31st at the Atlanta Exposition Center South, 3850 Jonesboro Road, Atlanta.
The Atlanta Camping and RV Show began in 1975 and has grown to one of the biggest combined RV dealer shows in the Southeast with nine of Atlanta's largest RV dealers on-site featuring all makes and models for outdoor travel and camping resort destinations.
This year's featured camping innovation is the new Toy-Hauler side deck, which slides out easily for extra above ground space for lawn chairs or spectator viewing. Marking its return to the show after more than 5 years will be a full line of Airstream trailers featured by Southland RV.
"Year after year, we see families coming back to the show and this is the place to find just the right fit to get started or to move on up" says Bobby Smith, President of Hardman Productions and show producer for the Atlanta RV Dealers Association. "For those who camped as children, they said it had a positive impact on their adult lives, helping them develop an appreciation for the outdoors and for different people and places. Georgia State Parks and a wide array of in-state campgrounds and travel resorts offer an amazing opportunity to visit mountains, lakes and seashore, all within a day's drive".
Ron Jones, author of several books on the outdoor travel lifestyle, including "All the Stuff You Need to Know About RVing", in addition to Dave Kobos from Apalachee RV Center will be hosting seminars on several topics related to travel and camping throughout the three-day run. This year's attendees will also have a chance to register-to-win the grand prize of $2000 in gas cards to fuel up for the year.
To complement the RV lifestyle, exhibitors will be on hand, offering up ideas and deals on short and long-trip travel destinations, outdoor adventure clubs, campgrounds, service and accessories.
Discount coupons are available at participating dealers, or at http://www.AtlantaRVshow.com
The Atlanta Camping and RV Show is sponsored by the Metro Atlanta Recreational Vehicle Dealer Association and produced by Hardman Productions.
For more information about RVing, visit http://www.goRVing.com or call Hardman Productions at
470-216-3444
FACT SHEET
When: January 29-31, 2016
Where: Atlanta Exposition Center South -3850 Jonesboro Road (South Building) Atlanta, GA 30354 (I-285 South, Exit 55, Jonesboro Road)
New Show Hours: Admission Prices:
Friday: 11:00am – 7:00pm Adults: $10
Saturday: 9:00am – 7:00pm 55 & older: $9
Sunday: 10:00am – 5:00pm Children 6-16: $5
Children under 6: FREE
Admission Specials: Kids Free Friday! – KIDS 16 AND UNDER ADMITTED FREE
Special Events & Seminars: Author, Ron Jones and Dave Kobos – Apalachee RV Center

Twenty Questions RV: All you need to know to get the most out of your vehicle and travel experience
Making Dollars and Sense out of RV Maintenance
Southeast Greyhound Rescue
Cooking Demonstrations
Dealers on Site:
National Indoor RV Center, Lilburn GA
Browns Camping Sales, Jonesboro GA
Southland RV, Buford GA
Norman Campers, Marietta GA
Crown RV Center, Conyers, GA
Campers Inn, Tucker, GA
RV World of Georgia, Buford, GA
Southern RV, Jonesboro, GA
Three Way Campers, Marietta, GA
Prizes: Two thousand dollars in gas gift cards to one winner.
Parking: Free.
Produced by Hardman Productions, Inc.
For more information, contact us at Bsmith(at)AtlantaRVshow(dot)com
Media Contact: Joy Kramer 404-274-0068 joy(dot)kramer(at)adventuresatl(dot)com
Show Contact: Bobby Smith at 770-826-1448
Show phone number for consumer information is 470-216-3444.