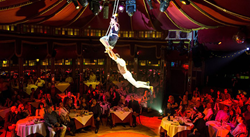 International cast led by award-winning comedic talent, Christine Deaver.
Seattle, WA (PRWEB) January 26, 2016
It's old country meets new world in the all-new larger-than-life Teatro ZinZanni Seattle creation, "Be Italian!," which is starting rehearsals with its brand new cast this week in the magical, Seattle-based spiegeltent. Teatro ZinZanni is a fully original show based in Seattle, Washington whose model is unlike anything else seen in the United States - the three hour whirlwind of love, chaos and dinner combines European cirque, cabaret, spectacle, and live music meanwhile serving up a multi-course feast. The latest production "Be Italian!" follows one New Jersey family's antics as they work to resurrect their deceased patriach's famous Italian restaurant only to be foiled by an unexpected arranged marriage! Mix in trophy wives with psychic powers, handymen that fix more than lights, a Chinese chef that's waiting to take flight, and things get ZinZanni'ed quick! Directed by first-time dinner show director, Teatro ZinZanni artistic director Reenie Duff, this all-new production and storyline features some of the greatest talents to be experienced in the tent as well as two acts Seattle hasn't seen in quite some time.
The international cast features comedic genius and award-winning talent Christine Deaver (recipient of numerous Garland, Ovation, and L.A. Weekly awards) who will carry audiences through the night alongside Canadian funny-man Joe De Paul (Cirque du Soleil), prima ballerina turned hoop aerialist Ariana Lallone (former 25-year Pacific Northwest Ballet prima ballerina), masterful aerialist Rui Ling (Cirque du Soleil), contortionist beauty Vita Radionova (finalist on America's Got Talent 2015), physical artist and tapping sensation Mickael Bajazet (former member of French acrobatic trio Les Petite Frères), master trapeze artists Die Maiers, and rock vocalist Jen Ayers (Seattle band, Honey Tongue).
MEET THE CAST:
Christine Deaver is an actor, singer, writer, director and voiceover artist. She has worked with Teatro ZinZanni for 12 years and has created such characters as Penelope Wilde, Film Noir Man, Juliet, Voluptuous Panic, Vivian Beaumount, Cassanova, Teresita Guadalupe Teresita que Bonita Vamos a la playa con Teresita, Adalita, Tina Romanelli, and more. She has worked extensively in theatre, film, and television in Los Angeles and abroad and is a recipient of numerous Garland, Ovation, and L.A. Weekly awards for her work in the theatre and as a member of the Zoo District Theatre Company in Los Angeles. She has written and performed several one-woman shows including "Ah, Families," "Leave it to Deaver," and "Bodacious" and toured them across North America, Asia, and Europe. Christine was recently seen in the production of Seeing Red in Los Angeles. She returns to Teatro Zinzanni Seattle after her smash hit latest one-woman show "Showgirl" debuted in Puerto Vallarta and Ajijic, Mexico. "Showgirl" is also the title of her solo CD that you can conveniently purchase in the boutique at Teatro ZinZanni.
Ariana Lallone proudly spent 24 years of her professional dance career performing with Pacific Northwest Ballet (PNB). Born and raised in Southern California, Ariana received a scholarship to the PNB School before joining the company as an apprentice in 1987. The following year she was promoted to the corps de ballet, became a soloist in 1993, and was named principal in 1994. Her performances won numerous accolades including being featured on the cover of Dance Magazine. Her final PNB bow came in June 2011. Ariana has performed in ZinZanni shows "Bonsoir Liliane!," "Dinner at Wotan's," "Hacienda Holiday" and four children's shows. She was assistant choreographer for "On the Air" and choreographer for "The Return of Chaos," "Hollywood Nights" and for the children's shows "Curious Circus," "Dream On" and "Lighter than Air."
Forever getting caught up in unpleasant and highly embarrassing situations, Die Maiers - or Mr. and Mrs. Maier - solve their dilemmas through sheer force of will and grim determination and their naive and gentle nature always wins the day. Sabine Maier and Yogi Mohr, the creators of these delightfully comic characters, have lived and worked together since 1988. After studying circus-skills and performing arts in Brussels, Paris and Bristol they have put their stamp on many of the most innovation circus and theatre productions as comedians and with their hilarious trapeze act. Based in Berlin, they have toured the world the past 25 years now, always together with their three children! They have been part of the "ZinZanni family" almost from the very beginning and they previously appeared in 10 different productions under the Teatro ZinZanni tents in Seattle and San Francisco.
Canadian actor, writer, teacher, director, and clown Joe De Paul has always had a gargantuan appetite for performing. A veteran of numerous Cirque du Soleil productions, Joe's unique physical comedy has brought him critical acclaim in various circuses and cabarets throughout Europe. Joe toured from Spain to Finland with Los Galindos street circus. He taught at the Geneva Circus School, FRACO clown school, and Concordia University Montreal. Joe has written and directed for Cirque du Soleil's Ka and Amaluna, performed as a clown in the Football Show during the World Cup in Berlin and hosted the Förder Preis, The Zurich Cultural Awards Ceremony. Joe's latest creation is a full-length solo clown show titled Placebo. Joe's career has scaled numerous heights, including appearances in over 20 film and television events and he has performed and directed 12 Teatro ZinZanni productions since 2007.
A featured performer in the 2003 Tiger Lillies circus tour of Finland, France, England, Germany and Greece, the sensational Ukrainian contortionist and hula-hoop artist Vita Radionova made her North American debut at Teatro ZinZanni in 2004. She graduated from the legendary Circus School of Kiev in 1999, and since then has performed her elegant and sensual act at some of the finest venues in Europe, including the Apollo Varieté in Dusseldorf, Palazzo in Munich and Frankfurt, and with Circus Salto Natale in Zurich. Enchanting, mesmerizing and sensuous, Vita defies the laws of physics with her performances. In 2015, Vita was a quarter finalist in America's Got Talent Season 10. She will be presenting an all-new act in "Be Italian!" alongside Mickael Bajazet.
Mickael Bajazet is a physical comedian, acrobat, dancer, as well as a choreographer for circus acts who trained at the acclaimed Annie Fratellini Circus School in France. ZinZanni audiences will recognize Mickael from his work with the trio Les Petits Freres, an act that defied gravity and wowed international audiences. With Les Petits Freres, he performed at top venues across Europe including Cirque d'hiver Bouglione in Paris, Appolo Variete in Duseldorf, Tiger Palast in Frankfurt, and Wintergarten in Berlin. With Teatro ZinZanni, he has performed in three cities and is happy to call Seattle his home. Mickael is excited to reunite with several past cast members and premiere his new act with Vita Radionova. He also choreographed Vita Radionova's contortion act and created a new Chinese pole routine for Domitil Aillot.
Rui Ling has been performing and training in the circus arts since he was very young. At the age of 10 he joined the Flag Circus of China where he traveled worldwide. In 2000, he joined Cirque du Soleil's Dralion and toured North America and Europe for five years. In 2006, Rui joined another Cirque production Delirium with his straps act. He presented his act and received numerous prestigious awards including the gold medal at the Wuhan International Acrobatic Arts Festival. Rui was also a finalist in the "Amazing Chinese" TV show. In 2010 "¡Caliente!" marked the debut of his straps act with Teatro ZinZanni, and has been performing off and on since then. In his off-stage time, Rui is focusing on taking a more artistic direction and most recently finished a world-class aquatic production in China by Franco Dragone as Assistant Artistic Director.
Jen Ayers is a rock diva with a throat of gold. She's been singing, playing piano and writing music since age five and performed thousands of shows nationwide, fronting Seattle-based band Honey Tongue. Her powerhouse vocals earned invitations to sing across the U.S., including the National Anthem at NBA/MLB games and Led Zeppelin for "Bonzo's Celebration Day" (featuring members of Heart, REM, Pearl Jam). She's channeled Steven Tyler in Dream On, the all-girl Aerosmith band, starred in an independent film for which Honey Tongue wrote songs and performed, and recently released her first solo CD "Every Day Is A Parade" – a rock-music-to-motherhood journey inspired by Bali. Jen's been performing at Teatro Zinzanni since 2012 in "Return To Paradise" and recently in Teatro ZinZanni's family show, "Big Top Rock."
"Be Italian!" plays February 4-June 12, 2016 (press night February 18) at Teatro ZinZanni (222 Mercer Street, Seattle, WA 98101). Ticket prices start at $99 and can be purchased online at ZinZanni.com/Seattle, by phone (206) 802-0015, or in-person at the Teatro ZinZanni Box Office (open Tuesday-Sunday, Noon-7:00 p.m.).
For a complete cast list and more show detail, please visit us at: http://zinzanni.com/seattle