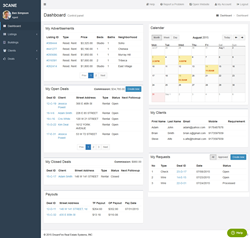 Take advantage of a smart CRM - first of its kind for NYC Real Estate agents!
New York, NY (PRWEB) January 26, 2016
DreamFire, a REBNY approved IDX vendor, launched a state of the art CRM platform branded as '3cane.com' for real estate brokers and agents in New York City. Among many of its unique features, this platform uses Artificial Intelligence to ensure that the listings information is up to date and accurate.
Currently, this is the first comprehensive product offering of its kind for real estate brokers who require a privately labelled and highly customizable solution with total control on their data.
An overview of major features of this incredibly smart CRM is available at product website http://3cane.com
Salient features and benefits:

Lead generation and client Intelligence – provide agents with actionable information on client leads
Federated listings – a larger listings inventory from diverse sources; open & exclusive
Smart workflows – create and manage deals with a click of a button
Improved productivity – manage listings, advertisements, outgoing feeds, leads, client engagement, deals and commission all in one place.
Agent management – recruit agents and manage teams, commissions and advertisement credits.
Competitively priced, this user friendly solution is expected to reduce the cost of operation of a broker while improving productivity through automated marketing and smart workflows. Designed to work on smart phones and tablets this system eliminates, an agent's need to use a multitude of websites and services thereby saving precious time and money.
With minimal customization, a broker could migrate from existing listing services to this secure and smart system within a few weeks and take advantage of its superior capabilities.
Interested brokers can avail a demo of this solution to understand its capabilities and benefits.
Contact: John Prince john@3cane.com Phone: 212 964 1689
About DreamFire:
DreamFire Real Estate Systems, INC is a privately held company specializing in real estate industry solutions. DreamFire has a track record of successful projects in real estate industry and is a REBNY (Real Estate Board of New York) approved MLS IDX vendor.
Based in the financial district of Manhattan, DreamFire is affiliated to DreamFire Interactive Solutions (http://dreamfireinteractive.com), a leader in web experience management and provides technology solutions to businesses around the globe. Some of DreamFire's profiled clientele include EMC Corporation, Mercedes-Benz, The United Nations and Barclays Bank.
DreamFire Ventures (http://dreamfire.vc) incubated this product company while John Prince, its general partner, is credited with design and engineering efforts. All Intellectual Property Rights associated with this product by way of patents, copyrights and trade secrets are assigned to DreamFire Real Estate Systems, INC.