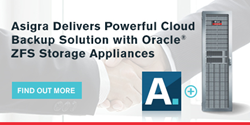 Toronto, Canada (PRWEB) January 27, 2016
Asigra Inc., a leading cloud backup, recovery and restore software provider since 1986, today announced that it is delivering Asigra Cloud Backup™, an agentless, multi-tenant NIST FIPS 140-2 certified data-protection software solution, with Oracle® ZFS Storage Appliance. For managed service providers (MSPs) and enterprises seeking a higher financial return on their backup infrastructure investments, Oracle ZFS Storage Appliance provides a cost effective solution that delivers exceptional features and performance.
Tweet This: #Asigra to deliver Oracle ZFS Storage Appliances integrated with @Asigra #CloudBackup for low cost, high performance http://bit.ly/RWMY3A
"As the storage world moves from its hardware-focused roots to the current semantic love affair with all things software-defined, Oracle is one of a small group of vendors placing the emphasis for storage on applications, database, and data," said Mark Peters, senior analyst at Enterprise Strategy Group. "It's called Oracle ZFS Engineered Storage. The Oracle ZFS product line offers exceptionally high performance, and is well tuned to today's market needs in terms of providing a very attractive total cost of ownership (TCO). This storage option for data protection offers service providers a competitive advantage when deployed as the core of their backup infrastructure."
The Oracle ZFS Storage Appliance is ideal for MSPs who have clients that require more than 100 terabytes of storage capacity. The solution can lower capital and operational costs while improving performance when compared to traditional storage solutions. MSPs who offer cloud backup services today, but want to provide a more comprehensive data protection solution to expand their total addressable market, will find that the Oracle ZFS Storage Appliance delivers excellent value. Existing Asigra partners who require a hardware refresh as their backup vaults exceed 100 terabytes can realize the benefits of this cost-effective and high-performance solution.
"Oracle ZFS Storage Appliance provides us with an advanced storage architecture that is far superior to a build-your-own storage solution," said Reid Warrick, chief technology officer for Armada Cloud. "With Oracle ZFS Storage ZS3-2 system deployed, Asigra's Cloud Backup application performance increased eight times compared to what we experienced with our previous hardware platform. We also realized very high uptime, availability and scalability up to one petabyte with a single system, while reducing overall storage costs by more than 30 percent."
"Because of the issues with storage migration in a multi-node storage environment, hardware upgrades are often costly, complex and time-consuming. The Oracle ZFS Storage ZS3-2 system simplifies the process from top to bottom and reduces capital and operational costs in the process," said Rob Mackle, sales and service director for Backup Technology (an iomart company). "The ZS3-2 is part of our investment to deliver truly scalable backup to our customers. It is a win for Asigra and its partners."
"It has always been our intention to accelerate time-to-revenue for our partners by addressing the cost and complexity associated with deploying, managing and maintaining enterprise-class cloud backup services," said David Farajun, CEO of Asigra. "With the Oracle ZFS Storage ZS3-2 system, the complications of integration, troubleshooting, fixes, patches, installation, monitoring, maintenance and the requirements for skilled IT staff have been engineered out of the product. For our partners, this means faster time-to-market with a solution that delivers unmatched recovery performance."
Availability & Pricing
The Asigra Cloud Backup software solution with Oracle ZFS Storage Appliance ZS3-2 is available to MSPs immediately. To request a demo or for further information, email info(at)asigra(dot)com or call (416) 736-8111 ext. 1453.
Additional Resources:
Read the Asigra Cloud Backup Product Reviews: https://www.g2crowd.com/products/asigra-cloud-backup/reviews?utm_campaign=widget_embed&utm_medium=riblet&utm_source=Asigra+Cloud+Backup
Hear What Solution Providers Have to Say about Working with Asigra: http://www.asigra.com/resource-center/partner-testimonials
Users Name Asigra as Top Enterprise Backup Solution – from Storage Magazine:
http://searchdatabackup.techtarget.com/feature/Users-pick-Asigra-and-Veeam-as-top-backup-applications
To Learn More about Asigra, Visit: http://www.asigra.com.
Follow Asigra on Twitter at: http://twitter.com/asigra
About Asigra
Trusted since 1986, Asigra provides organizations around the world the ability to recover their data now from anywhere through a global network of partners who deliver cloud backup and recovery services as public, private and/or hybrid deployments. As the industry's first enterprise-class agentless cloud-based recovery software to provide data backup and recovery of servers, virtual machines, endpoint devices, databases and applications, SaaS- and IaaS-based applications, Asigra lowers the total cost of ownership, reduces recovery time objectives, eliminates silos of backup data by providing a single consolidated repository, and provides 100 percent recovery assurance. Asigra's revolutionary patent-pending Recovery License Model provides organizations with a cost-effective data-recovery business model unlike any other offered in the storage market. Asigra has been recognized as a Gartner Cool Vendor and has been included in the Gartner Magic Quadrant for Enterprise Backup and Recovery Software since 2010. More information on Asigra can be found at http://www.asigra.com.
###
Asigra and the Asigra logo are trademarks of Asigra Inc. All other brand and product names are, or may be, trademarks of their respective owners.
Contact:
Sarah MacKenzie
McClenahan Bruer
asigra(at)mcbru(dot)com
503-546-1000