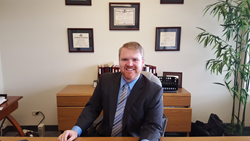 We're excited to have Dan on our team and we look forward to what we can accomplish with his financial background.
GLENVIEW, IL (PRWEB) January 29, 2016
James C. Provenza, PC announces the addition of Daniel Johnson to their law firm. Johnson brings additional financial experience to the firm to complement the existing tax, estate and non-profit services that the firm provides to individuals and organizations across Illinois.
Daniel Johnson recently joined the James C. Provenza, PC law firm in December 2015. He graduated from Saint Louis University in 2005 with a Bachelor's Degree in Criminal Justice, then worked as a licensed stock broker and fraud investigator at Scottrade Inc. During his time in the stock market, Johnson became increasingly interested in the legal side of things. In 2012 he left Scottrade to attend law school at the University of Illinois College of Law in Champaign-Urbana. He graduated with his Juris Doctorate in 2015.
"We're excited to have Dan on our team and we look forward to what we can accomplish with his financial background," said firm founder and attorney James Provenza. "His experience in the stock market and as a fraud investigator adds depth to our office, and we hope it will give us the opportunity to help more non-profit organizations."
Daniel Johnson is just as eager to dive in and help clients attain their philanthropic and financial goals. "It's so rewarding to see how our consulting and guidance can help organizations all the way from formation to fundraising," Johnson commented. "It's a different side of the financial and business world, and a side I'm happy to be practicing on."
James Provenza has been practicing since 1982 and has been the primary attorney over that time period. He brought another lawyer on board to help him meet the growing demand by business clients, both for profit and not for profit. Now with Daniel Johnson as part of the firm, the two attorneys bring over 30 years of non-profit law, tax law, estate planning, stock market and fraud experience to the Chicago area.
About James C. Provenza, PC:
James C. Provenza, PC is a law firm providing legal solutions to families and non-profit organizations in the Chicago, IL area. The law firm specializes in retirement and estate planning for individuals, as well as services for non-profit organizations. James C. Provenza, PC supports non-profit organizations from formation through operations, challenges and opportunities. Attorney James Provenza also consults with non-profit organization officers and board members regarding strategic and fundraising planning. Additional services and information can be found on the law firm's website: http://www.provenzalaw.com.