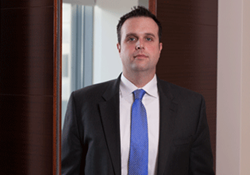 "Jim brings a diverse and extensive range of experience to his role as General Counsel, and is uniquely suited to drive our growing responsibilities of HR."
Rohnert Park, CA (PRWEB) January 26, 2016
Soligent Distribution LLC., the largest Solar Distributor in North America, today announced the hiring of Jim McNamara as General Counsel and Senior Director of Human Resources. As General Counsel, Jim McNamara is the company's chief legal officer, providing legal expertise to the organization across both existing core business functions and new business ventures to ultimately further enable the growth and success of its partners and clients.
Jim comes to Soligent from Chicago, Illinois, where he most recently served as a partner at Schuyler, Roche & Crisham, P.C. Jim focused his practice on representing a diverse array of businesses and professionals in complex commercial structures, regularly providing clients counsel and advice on a broad spectrum of legal areas, from general commercial litigation to employment law.
"Jim brings a diverse and extensive range of experience to his role as General Counsel, and is uniquely suited to drive our growing responsibilities of HR," said Thomas Enzendorfer, President of Soligent. "We are fortunate to have Jim on our team, as we strive towards transforming the definition of value in this fast-growing industry."
Jim will be located in Rohnert Park, California, Soligent's corporate headquarters.
About Soligent:
Soligent Distribution LLC. is the largest pure play solar distributor and end-to-end enablement platform in the Americas, supplying over 5,000 solar installers with equipment, financing, and software they need to accelerate the adoption of solar while making their businesses more competitive and profitable. Soligent has been a pioneer in the solar industry for decades and continues to drive the market forward with innovative solutions ranging from materials management to project financing. Headquartered in Northern California, Soligent provides solutions to help local and regional dealers grow. With advanced training, residential and commercial project financing, multi-site distribution centers in New Jersey, Northern and Southern California, Soligent is well positioned as a responsive, flexible solar partner. For more information, visit http://www.soligent.net or call 1-800-967-6917.