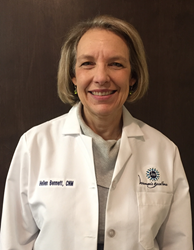 Birmingham, Lake Orion, Clarkston, Metamora, Michigan (PRWEB) January 26, 2016
Women's Excellence welcomes Hellen Bennett to their Midwifery team.
Hellen is certified as a nurse midwife through the American Midwifery Certification Board and also certified as a Women's Health Nurse Practitioner through the National Certification Corporation. She has her undergraduate degree in Nursing from University of Michigan and a Master of Science in Nursing with a concentration in Parent Child Nursing, also from the University of Michigan. She attended Frontier Nursing University for her Nurse Midwifery diploma in 1992.
Hellen has been a nurse midwife since 1992 and worked in many settings around the state of Michigan. She has been on faculty at the University of Michigan and had midwifery and nurse practitioner students work with her in the clinical setting from schools around the country. She feels it is important that women are well informed and share in decisions regarding their health. In addition to pregnancy care, her special interests are well woman care, contraceptive options and midlife/menopausal health issues.
Hellen is a native Michigander, enjoys the 4 seasons but also enjoys travel and experiencing diversity and culture of other places. Hobbies she enjoys include painting (watercolor primarily), nutrition, cooking, gardening, all forms of needlecraft and reading.
Women's Excellence is the most comprehensive obstetric and gynecologic office in Michigan. They also specialize in menopause, weight control, bladder control, endometriosis, robotic surgery, pelvic floor physical therapy, and midwifery services. The knowledgeable, well-trained, compassionate physicians and healthcare providers of Women's Excellence are taking new patients and are conveniently located in four locations throughout southeastern Michigan, Birmingham, Lake Orion, Clarkston and Metamora. For more information, visit http://www.womensexcellence.com.