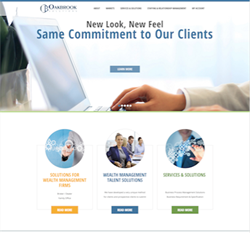 Winston-Salem, NC (PRWEB) January 27, 2016
Oakbrook Solutions has recently redesigned its website to offer a more user friendly experience with improved navigation and functionality. Oakbrook focuses on providing a high level of service to their clients and brings that same level of service to their new website.
The site includes many new features to help users quickly and easily navigate the site to find what they are looking for because it was created with the user experience in mind. The new design allows clients and prospective clients browsing the site to focus on a specific market. They can also visit the services and solutions pages and with simple contact forms on every page, it is easy to reach out for additional information.
One of the key features and a very unique aspect of Oakbrook's new website is their Wealth Management Talent Solutions portal. This portal allows visitors that have resource needs to submit anonymous resource requests and to receive a response to that request within 24 hours. Oakbrook understands that resource needs may require confidentiality so they wanted to be able to offer this anonymous functionality to clients and prospective clients.
Site visitors can create a user account without providing any contact information and once created, they will be directed to their own private dashboard. Users will complete and submit a resource request and within 24 hours Oakbrook will review the request and respond by sending a message to the dashboard. Users will simply need to log in to view the message and will be able to reply and request further information or have the option to provide their contact information at that time.
This online portal capability is different and tailored for Oakbrook's clients and prospective clients. Oakbrook is not made up of traditional "recruiters" because they work in the business alongside their clients. They are wealth management experts who over the past 15 years have developed a very unique process and rich database to find the people their clients need, when and where they need them. This new functionality puts Oakbrook right at the clients' fingertips and can be accessed when it is convenient for them.
"The new design was created specifically with the user experience in mind," says Tony Painter, CEO, Oakbrook Solutions. "We want clients and prospective clients to easily find the information they are looking for and we want to make it just as easy for them to contact us for additional information. We also carried this same design principle through to our Wealth Management Talent Solutions portal."
Oakbrook's new website was designed using the latest technology ensuring compatibility with today's browsers and mobile devices and in turn delivering the best user experience possible.
About Oakbrook Solutions
Since 2000, Oakbrook Solutions has been a leading systems, process, and delivery expert for the wealth management industry. The firm provides consulting services and software solutions to solve common problems within our industry. Through focus, expertise, and commitment to their clients, Oakbrook has successfully serviced firms of all sizes, from start-up organizations to the world's largest financial institutions. For more information, visit http://www.oakbrooksolutions.com.