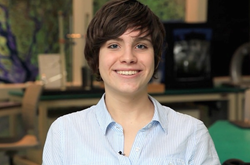 Alexis teaches youth that they have the ability to solve serious problems now, while they are kids.
Los Angeles, CA (PRWEB) January 27, 2016
The biggest youth innovation competition in the country has announced it will award at least $70,000 in grants to persons and organizations who help inform educators and students about the competition and $30,000 in grants to educators who are associated with the top 100 teams.
The Paradigm Challenge invites youth aged 7 to 18 to use STEM skills plus kindness, creativity, and collaboration to generate new ideas to prevent injuries and fatalities from home fires. Student prizes total $250,000. The top 100 teams will win cash prizes ranging from $500 to $100,000 and their inspiring teachers will win cash grants from $250 to $5,000. The deadline to enter is May 1, 2016, and there is no cost to participate.
Over 35,000 students already have registered for the competition, but Project Paradigm's founder and CEO, Jeff Richardson, wants to engage even more students. "Students are empowered when they are told they can help solve real-life problems. Students can come up with public service announcements, community events, inventions, and new ways to think about this problem," explained Richardson.
Project Paradigm chose Alexis Lexis, a teenage inventor, to narrate the lesson plan video on The Paradigm Challenge's website. Lewis already has invented two life-saving devices--one patented and one pending. "Alexis' story inspires students to realize that problem-solving, and even inventing, is not reserved for adults," said Richardson. "Alexis teaches youth that they have the ability to solve serious problems now, while they are kids."
The lesson plan video is accompanied by supporting materials to help teachers and parents inspire their students to use kindness and creativity to make a difference in the world. To learn more about the lesson plan and the educator grants, visit http://lessonplan.projectparadigm.org. Youth can sign up for The Paradigm Challenge at http://www.projectparadigm.org.
About the Paradigm Challenge:
The Paradigm Challenge is a new annual competition created by Project Paradigm in collaboration with the American Red Cross and supported by a coalition of partners including Youth Changing the World and the National Youth Leadership Council. The theme of the competition will change annually. The 2016 theme is home fires. Coalition partners for the 2016 Paradigm Challenge include The Phoenix Society, The National Fire Protection Association, and Children's Burn Foundation.
About Project Paradigm:
Project Paradigm, a national private foundation headquartered in Los Angeles, California, aims to identify, support, and collaborate with passionate individuals and organizations to inspire, lead, and facilitate paradigm shifts in the approaches to global challenges. Learn more at projectparadigm.org/founder.