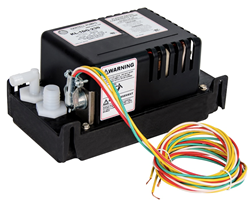 "And in the case of PlenumPlus, we've added a layer of safety that's critical for discrete plenum applications."
(PRWEB) January 26, 2016
Hartell, a brand of Accudyne Industries, announces the introduction of its high-temperature, low-profile commercial grade condensate pump series. This newest addition to the PlenumPlus™ series has been designed for applications where installation space is restricted. This robust pump stands only 4-3/4 inches high and can handle temperatures up to 212°F with a maximum lift of 18 feet. The 1-quart reservoir is only 1-3/4 inches tall and comes standard with an auxiliary safety switch for added peace of mind. There are three models in the series: the solid cast aluminum A2-X-1965 DV; the robust A3/A5 and now the low-profile KL-1DG.
All models have been tested to, and yielded results, that fall within the acceptable criteria of United Laboratories' (UL) 2043, third edition "Fire test for heat and visible smoke release for discrete products installed in air-handling spaces." The UL standard 2043 rating ensures products meet the requirements for fire-resistant and low smoke-producing characteristics as outlined in The National Electric Code, NFPA 70; the International Mechanical Code, NFPA 5000; and the standard for Installation of Air Conditioning and Venting Systems, NFPA 90A.
William Beard, Director of Sales for Hartell, said that pumps produced by Hartell are known for delivering performance and reliability that make handling condensate easy. "And in the case of PlenumPlus, we've added a layer of safety that's critical for discrete plenum applications."
In the event of a fire, Hartell's PlenumPlus™ pumps won't give off excessive heat or smoke, an unparalleled industry standard of safe and reliable condensate service. All pumps feature a 12-month, worry-free warranty.
Low Profile Model KL-1DG
Hartell's low profile Model KL-1DG has the same great features as the larger PlenumPlus™ models, but the low-profile pump design enables installation in areas with restricted spaces.
Additional features include:

Rated for temperatures to 212°F
1 Quart reservoir, low profile height of 1-3/4-in.
Two inlet sizes 1 inch and 1-3/4 inch
Auxiliary safety switch
18-foot maximum lift
Built-in check valve
High Temperature Model A3/A5
PlenumPlus™ Model A3/A5 feature heavy-duty construction rated for use with steam condensate. This robust pump offers a quick connect; the serviceable check valve and reversible reservoir with standard provisions for low-level inlets give you more installation options and easier maintenance. The oil- and chemical-resistant, high-temperature rated materials with robust design elements are used to provide a new standard of quality and long service life. A3/A5 series pumps are equipped with a new check valve design and improved fluid flows to make these pumps quiet and reliable.
The model also features:

1 gallon, heavy-duty reservoir
Max temperature 212◦F
Auxiliary safety switch on all models
Solid Cast Aluminum Model A2-X-1965
The PlenumPlus™ Commercial Grade Condensate Pump Model A2-X-1965 DV offers HVAC professionals easy wire access, with a 115/230 dual voltage, thermally protected motor. This model also has a solid cast aluminum reservoir, multiple piping arrangements and a maintenance-free, ball-bearing design that eliminates a need for lubrication.
Other features include:

1 gallon, heavy-duty cast aluminum reservoir
400 gallons per hour max and 20 foot shut-off lift
Four outlet options: (3) 1-1/4 inch top inlets and (1) 3/4 inch FNPT at bottom of reservoir
Maximum temperature 150◦F
Auxiliary safety switch
###
About Hartell Pumps:
Hartell is a brand of Accudyne Industries, a leading global provider of precision-engineered, process-critical, and technologically advanced flow control systems and industrial compressors. Delivering consistently high levels of performance, we enable customers in the most important industries and harshest environments around the world to accomplish their missions. For more than 50 years, Hartell has provided a full line of innovative, high quality condensate pumps and accessories to the HVAC industry. We design our pumps for reliability, ease of installation, trouble-free maintenance and safety. For more information visit http://www.hartell.com, or http://www.plenumpluspumps.com.
Contact:
Aly Presswood
Crosswind Public Relations (for Hartell)
817-832-6162
apresswood@crosswindpr.com