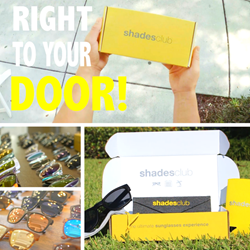 We set our sights on providing consumers with an affordable way to own an amazing collection of quality designer styles, delivered monthly, with 12 pairs of Shades Club sunglasses costing less than the price of one brand name designer pair
Orlando, FL (PRWEB) January 26, 2016
Shades Club, the company that's re-inventing the consumer sunglass buying experience, has wrapped up a blockbuster Kickstarter campaign, raising over $321,000 with over 3,000 members by offering quality sunglasses delivered to the home for a low monthly fee.
Shades Club is continuing to offer pre-market discounted orders on its new Indiegogo InDemand campaign. InDemand is a platform for successful crowdfunding campaigns to continue to meet consumer demand and take pre-orders from new backers.
"We set our sights on providing consumers with an affordable way to own an amazing collection of quality designer styles, delivered monthly, with 12 pairs of Shades Club sunglasses costing less than the price of one brand name designer pair," explains Shades Club co-founder Rich Amundson. "It's clear that we tapped into what the public wanted."
Shades Club sunglasses are designed by co-founders Rich Amundson and T.J. Eaton. They favor cool yet classic style lines with comfortable and durable performance. Club members receive the signature Shades Club bright yellow box each month.
As Indiegogo InDemand pre-orders get underway, Eaton is looking toward the future. "We plan the sunglasses our members get for the first few months to help build the foundation for the ultimate shades collection. Part of the appeal is the surprise of not knowing what you'll get," says Eaton.
Shades Club sunglasses are designed in the USA and produced at established designer sunglass factories. Lenses come with mirrors, gradients, and signature combinations, creating crisp, clear views.
Additional Features Include:

100% UVA/UVB Protection
Premium quality comfortable frames
Durable, self-tightening hinges that don't become loose
Polarized, REVO and CR-39 Lenses
Styles that appeal to both men and women
How Membership Works
Within the first three months, Shades Club designs are unisex in style and fit. As a member's collection grows, so does their relationship with Shades Club as Shades Club learns more about what members like. Shades Club selects from a variety of looks, which are delivered in a signature bright yellow box every month. Shades Club is an all-inclusive solution for sunglasses, featuring each month's best styles, loaded with accessories and delivered right to your door. Membership is flexible and can be discontinued at any time. In a year's time members own 12 head-turning pairs of shades for the price of one designer pair.
About Shades Club
Shades Club is located in Orlando, FL. Rich Amundson attended Fashion Institute of Technology and is a graduate of the Kenan-Flagler Business School at the University of North Carolina at Chapel Hill. T.J. Eaton is a former lifeguard, college athlete, and graduate of the University of Delaware's Lerner School of Business. The team also co-owns the Dicks Cottons company and have been designing sunglasses for more than 5 years. Shades Club has established relationships with the most reputable factories in the eyewear industry. It's the smartest way to discover and own the sunglasses collection you've always wanted, but could never afford – from classic essential styles, to premium polarized lenses, and everything in between.