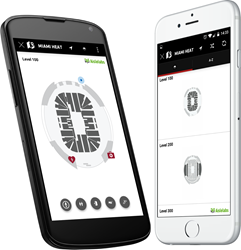 The Miami HEAT is one of the most tech-savvy, innovative, and fan-focused teams in the NBA
Toronto, ON (PRWEB) January 27, 2016
Aislelabs has been selected as the technology partner for location based messaging and in-door way finding by Miami HEAT at the American Airlines Arena.
Miami HEAT recently launched their brand new mobile application for their fans. The app incorporates a host of new features such as way finding and location-based custom messaging in the American Airlines Arena. The Miami HEAT selected Aislelabs as their technology partner to provide navigation, maps and location based marketing using beacons, effectively enhancing the fan experience inside the American Airlines Arena.
"The Miami HEAT is one of the most tech-savvy, innovative, and fan-focused teams in the NBA," said Aislelabs CEO Dr. Nick Koudas. "We're excited to partner with the Miami HEAT, not only to improve the fan experience, but also to reveal insights related to fans visiting the American Airlines Arena. Already half of fans on the HEAT app inside the American Airlines Arena use the navigation and way finding features of the app, which is one of the highest engagements we have seen."
Aislelabs utilizes iBeacon and Bluetooth technology to provide blue dot navigation and turn-by-turn instructions to a destination, similar to GPS enabled map navigation while driving. Miami HEAT mobile app users can utilize this feature to locate themselves inside the arena with respect to various sections, shops, and amenities. The location-based custom messaging helps Miami HEAT to communicate with the app users based on their location inside the arena. This feature is useful for greeting fans and providing information based on their location or frequency of visits. The current version of the mobile app is available for iOS and Android platforms with more information available at http://www.nba.com/heat/app
Aislelabs currently serves major airports, arenas, big box retailers and shopping centers in North America, Middle East, Europe, Australia, and East Asia enhancing the in-venue experience of shoppers. The company is transforming brick n' mortar spaces to smart locations using sophisticated location based marketing and analytics technology, resulting in effective communications, increased sales, and customer satisfaction.