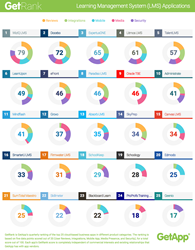 (PRWEB) January 27, 2016
Business app discovery site GetApp has released its Q1 2016 GetRank of the top learning management systems (LMS). Leading the field in the updated LMS GetRank is WizIQ, which jumped four places from last quarter to claim the top spot. Docebo and ExpertusONE took second and third place respectively.
GetRank is an independent ranking of cloud software for small businesses, taking into account five data points: user reviews, integrations, mobile app availability, security, and social media presence. The ranking is designed to help businesses make a first assessment of the top LMS applications on the market. Each software is awarded a score out of 100, with a maximum score of 20 awarded for each of the five data points.
WizIQ LMS earned a total score of 79 to top GetRank, achieving an impressive score of 19 for user reviews, and 18 for integrations. The highest score for integrations (20 out of 20) went to both Docebo and Paradiso LMS, while Edmodo topped the mobile scorecard, with a perfect 20. Grovo earned top marks for security, with a score of 18.
"By choosing the right learning management system, you can help your business get to grips with the administration, tracking, and reporting of company training and learning. To understand which application is right for you, it's important to consider a wide range of factors, such as the way the LMS integrates with your existing business software. For example, your LMS can be synced with your content management system to allow you to conduct training sessions through your company site," says Suzie Blaszkiewicz, project manager of GetRank.
GetRank calculates user review scores according to the number of reviews and their corresponding ratings on GetApp. Mobile app scores are defined by gathering data from Google Play and the Apple App store, determining the availability of an app as well as considering its user ratings. Integration scores are based on the number of software integrations listed on GetApp, while the media presence score takes into account the size of a vendor's Twitter and Facebook following, as they compare to other vendors in the same category. Security scores are calculated based on a vendor-completed survey, which is modelled on the Cloud Security Alliance's Self-Assessment Form.
The full Q1 2016 GetRank for LMS is available here. You can also download a free copy of GetApp's accompanying report, HR in the Cloud, which provides analysis of key trends in the HR software industry, including insights into the learning management system space.
More about GetApp: GetApp, a Gartner company, is the leading premium business app discovery platform on the web. Headquartered in Barcelona (Spain), GetApp serves as a platform for user-generated and editorial reviews of software and apps for businesses.