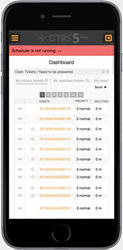 Mobile customer service is a key factor helping today's companies to stand out in very competitive markets, but they need the flexibility to test solutions before they purchase them as wrong decisions cost money and resources.
Cupertino, California, USA (PRWEB UK) 26 January 2016
OTRS Group, the world's leading provider of open-source and cloud-based service management software solutions, is announcing today the availability of a 30-Day free trial of the new version of its cloud-based mobile customer service solution OTRS Business Solution Managed 5.
Trial users can evaluate the mobile customer service software solution OTRS Business Solution 5 Managed and its new business features - such as a responsive design, report generator and pre-built business process templates - for their mobile customer service scenario free of charge.
Using a valid OTRS-ID, users can setup their trial system in three simple steps by logging in here: https://portal.otrs.com/otrs/customer.pl?Action=CustomerOTRSSystemsAdd
OTRS users without an OTRS-ID can register for a free one here: http://short4u.de/56a75c11e83df
The mobile version's responsive design offers companies the ability to communicate quickly with their customers from any location using their mobile devices. The new report generator makes it possible to easily generate professionally designed reports by selecting and combining several statistics, and automatically send them at pre-scheduled times to management. To help companies work more efficiently, prebuilt business process templates are available for standard incident processing in IT departments, and order processing and leave applications are available for HR departments.
Christopher Kuhn, COO of OTRS Group, points out the importance of a mobile customer service software solution and the need for the free trial: "Mobile customer service is a key factor helping today's companies to stand out in very competitive markets, but they need the flexibility to test solutions before they purchase them as wrong decisions cost money and resources. That's why we are offering a free 30-day trial of the mobile customer service software OTRS Business Solution Managed, without any restrictions or obligations, to convince new customers. Many of our valued customers, like Mobile Mini and NASA, tested the free Open-Source version of OTRS, which convinced them that we are the perfect partner to professionally design the system and support it."
About OTRS Group
OTRS Group is the vendor and world's leading provider of the open-source OTRS Service Management Suite, including the on premise and cloud-based versions of the OTRS Business Solution, as well as the OTRS Help Desk software and the ITIL® V3-compliant IT Service Management software OTRS::ITSM. With subsidiaries in the US, Hong Kong, Malaysia, Mexico and Brazil, OTRS Group offers managed services as well as training seminars, service support, consulting and software development to businesses that wish to increase the efficiency of their service management while saving costs and resources. Key customers include industry leaders such as NASA, IBM, Hewlett Packard, Lufthansa, Boeing, Porsche as well as 150,000 other organizations worldwide. OTRS is available in 35 languages, offers a fully responsive design to be used on every mobile device , and is used by 60 percent of the DAX 30 companies. Find out more about OTRS and our services at http://www.otrs.com