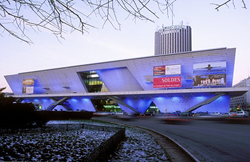 Poole, Dorset (PRWEB UK) 26 January 2016
The city of love loves exhibitions! And this February sees Paris hosting the Salon des Entrepreneurs at the Palais de Congrés.
The Salon des Entrepreneurs is a two day event showcasing the latest trends, advice from the top industry professionals, and guidance on sourcing finance.
Opening its doors on the 4th of February, the Salon des Entrepreneurs will see a range of exhibitors, from around the world, displaying the best in franchises, financing, digital resources, and business services. Visitors will be able to discuss new options, grow their businesses, and find solid foundations for a start-up, as well as network with fellow entrepreneurs and find new, and vital contacts.
Quadrant2Design will be in the city, installing a Prestige Exhibition Stand for one exhibitor. With a modular design, integrated technology, display showcases, and seamless effect graphics, the stand has a custom feel and makes a huge impact at any show, all while being portable, and easy to transport to exhibition halls around the globe.
For a complimentary design consultation from Quadrant2Design, or more information about exhibiting abroad, contact designteam(at)quadrant2design(dot)com or call 01202 723 500.
About Quadrant2Design
Quadrant2Design is the UK's only supplier of the Prestige Exhibition System. Portable, Modular and easy to self-build, the Prestige Exhibition System requires no tools or special skills. Catering for all sizes of exhibition stands, the Prestige Exhibition System, provides seamless effect, high-quality graphics that have a custom feel, whilst being reusable and cost effective. With an array of possibilities, including lit showcases, mounted LCD TV's and high-level branding, Quadrant2Design can create the perfect exhibition stand for any budget.