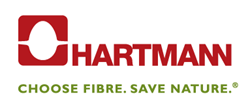 Our new facility in Missouri will allow us to be closer to our growing customer base in the central and western U.S.
Rolla, Missouri (PRWEB) January 26, 2016
Brodrene Hartmann A/S, a Denmark-based producer of sustainable molded-fiber egg cartons, today announced its expansion into the U.S. with a manufacturing facility planned for Rolla, Missouri. The move into the U.S. is based upon the company's growing sales and demand for its high-quality cartons in North America. The company's U.S. business will operate under Hartmann US.
Hartmann is making an initial investment of $30 million into an existing 334,000-square-foot facility in Rolla, which will be retrofitted to produce the company's egg cartons. Hartmann's molded-fiber cartons, made from renewable raw material paper, are carbon neutral, biodegradable and can be recycled. The Rolla facility is slated to begin operations in early 2017.
"Our new facility in Missouri will allow us to be closer to our growing customer base in the central and western U.S.," said Gerry Lavis, president of Hartmann North America and Hartmann US. "It will provide us with additional production capacity and increase our distribution efficiencies, which benefits our customers and positions us for continued growth."
In addition to the Missouri Governor's office, the Missouri Partnership and the City of Rolla, Hartmann worked closely with its business and real estate advisors at Newmark Grubb Knight Frank to conduct the site selection and transaction management.
The company's first U.S. facility will create 50 local jobs with the potential to double both in investment and number of jobs over the next several years.
Hartmann currently serves its North American customers — egg producers, packers and supermarket chains — from its production facility in Brantford, Ontario in Canada. Hartmann's U.S. sales representatives in Georgia, Massachusetts, Washington and Canadian counterparts in Ontario and Quebec work with customers to support the need for sustainable packaging in the retail trade.
About Hartmann
Hartmann is the world's leading manufacturer of molded-fiber egg packaging, market leader within the production of fruit packaging in South America and one of the world's largest manufacturers of machinery for producing molded-fiber packaging. Founded in 1917, Hartmann's market position is based on its strong technology know-how and extensive experience of molded-fiber production since 1936. Hartmann sells egg and fruit packaging to producers, packing businesses and retail chains, which are increasingly seeking Hartmann's marketing expertise. Hartmann's technology and related services are sold to manufacturers of molded-fiber packaging. Headquartered in Copenhagen, Denmark, Hartmann has 2,100 employees. Production takes place at Hartmann's own factories located in Europe, Israel, South America and Canada. For more information, visit http://www.hartmann-packaging.com.