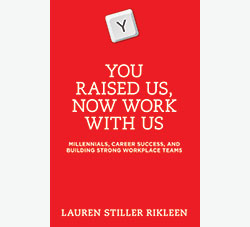 Chicago, IL (PRWEB) February 11, 2016
Lauren Stiller Rikleen is a nationally recognized expert on developing a thriving, diverse and multi-generational workforce. Updated with the latest research, "You Raised Us, Now Work With Us," will be released in paperback in March, 2016.
"You Raised Us, Now Work With Us" is the definitive book on Millennials in the workplace. Rikleen brings decades of experience to her analysis, including as an author, a law firm partner, a mediator, and a professional and community leader. She is frequently requested to appear as a keynote speaker and to lead programs and workshops that offer concrete strategies for: strengthening multi-generational teams; creating a culture that supports women's leadership and advancement; and minimizing the impacts of unconscious bias in workplace decisions.
This essential book is packed with hard data and interesting anecdotes. It provides actionable solutions and a detailed roadmap for retaining and developing the next generation of leaders. Written for managers, professionals of all generations, and even parents, "You Raised Us, Now Work With Us" offers a practical and thoughtful interpretation of the stereotypes that preceded Millennials into the workplace. Rikleen dispels those stereotypes with fresh analysis as well as concrete strategies for helping the generations better understand each other and build more collaborative relationships.
Since the original hardcover release, the book has received accolades from the media and from experts on generational issues. "Read this book if you want to get beyond stereotypes and understand millennials and the work-place. Lauren Rikleen provides terrific practical insight that will help employers harness the talent of millennials in the workplace. Whether you are a parent, an educator, or an employer, this book will help you understand the dynamics of the millennial generation. Buy the book. Give it to your friends. They will thank you." —David P. Angel, President, Clark University
"Rikleen takes on the mythology that Millennials are soft and entitled and turns it on its head. With original research and a wealth of fresh and powerful voices, she draws a more complex and nuanced portrait of a young, tech-savvy, highly skilled and dedicated generation with a different definition of success. That they put more stock in efficiency, quality and performance, rather than in the 'tried and true' long hours of face time in the office is, Rikleen points out, something not to be denigrated, but celebrated. Essential Reading for employers, employees, and parents of any generation." —Brigid Schulte, author of the New York Times bestselling "Overwhelmed: Work, Love and Play when No One has the Time," long-time, Pulitzer Prize winning journalist and director of the Better Life Lab at New America
Editor's note: Reviewer copies and author interviews are available by emailing Jill Nuppenau at jill.nuppenau(at)americanbar(dot)org If you publish a review of this book, please send tear sheets or a copy for our files to Jill Nuppenau, c/o Ankerwycke/ABA Publishing, 321 N. Clark St., Chicago, IL 60654.
This paperback book is available for pre-order on http://www.amazon.com.
Ankerwycke, launched in December 2014, is the consumer-oriented imprint of the American Bar Association, one of the largest voluntary professional membership organizations in the world with more than 400,000 members. In 1215, Magna Carta was sealed underneath the ancient Ankerwycke Yew tree, starting the process which led to rule by constitutional law — in effect, giving rights and the law to the people. Today, the ABA's Ankerwycke line of books continues to bring the law to the people. With legal fiction, true crime books, popular legal histories, public policy handbooks, and prescriptive guides to current legal and business issues, Ankerwycke is a contemporary and innovative line of books for everyone from a trusted and vested authority. Follow Ankerwycke on Twitter @AnkerwyckeBooks.