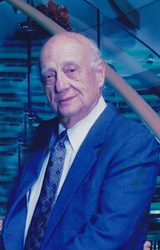 Fort Lauderdale, FL (PRWEB) January 26, 2016
David Pearl was born to Jacob and Goldie Pearl on October 21, 1918 in Pittsburgh, PA. He died unexpectedly on December 20th at Broward General Hospital bringing his full, beautiful, and still productive life of 97 years to a sudden end.
David's first job was as a paper boy where he quickly rose to an area manager employing his friends and even his sister. He recruited employees by offering them cookies at his mother's house after they made their deliveries. He was commissioned into the Navy in 1944 as a commander, Port Everglades Air/Sea Rescue. He married Marjorie Hahn from Pittsburgh in the same year.
David was an industrial visionary and after his naval service he and Maggie decided to settle permanently in the Fort Lauderdale area. In 1949, he founded Uniweld Products, Inc., a company that continues to manufacture quality welding and refrigeration equipment. In order to supply his growing demand for some of his component parts, he found it necessary to "make it himself." He started Continental Precision Instruments and Unibox, Inc. to fill those requirements and expanded those companies to serve others as well.
He remained married to Maggie for 69 years until her death in 2013. Together they raised three sons, traveled extensively, and she rode the horses he lovingly cared for. They bred many dogs including their prize winning Rhodesian Ridgebacks.
David's sense of humor and generous spirit made lasting impressions on family, friends and his many beloved employees. He was never without a sage piece of advice and his sense of enthusiasm at life's possibilities. He believed hard work was the key to success and expected all those around him to share in his work ethic. At 97 he still went to his office at least 2 to 3 times per week.
He is preceded in death by his wife Maggie, and his beloved grandchild Eric. He is survived by his sister Miriam Fineberg, three sons James, David II, and Douglas as well as seven grandchildren and two great grandchildren.