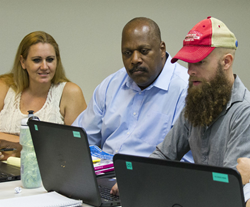 'Our hope is that both MCOR and the companies that participate in this grant will develop a mutually beneficial and sustainable partnership' - Carolina VanIngen-Dunn, director of community college STEM pathways at SFAz
Scottsdale, AZ (PRWEB) January 26, 2016
Maricopa Corporate College (MCOR) has recently been awarded the Science Foundation Arizona (SFAz) JPMorgan Chase Foundation Middle Skills Internship Program grant in order to create internship opportunities for its upcoming IT boot camp students.
The $27,291 grant will support modest stipends for students participating in the internship program as well as the salary for an Industry Coordinator. The Industry Coordinator will be responsible for securing internship opportunities with local companies and working with students throughout the internship process in order to ensure their success.
This opportunity will be available to all students who successfully complete one of two upcoming programs: MCOR's 12-week Web Developer boot camp beginning on Feb. 22 and the 10-week IT Support Specialist boot camp beginning on March 7.
Internships for both Web Developer and IT Support Specialist students will last 4-6 weeks and range from 80-120 hours. With the support of this grant, up to 30 students will be able to participate and receive modest stipends through this program. It is the hope of both MCOR and SFAz that this grant will help build a sustainable internship program that will continue on to serve more students in the future.
Students enrolled in these intensive boot camps will have the opportunity to apply for these internship positions upon successful completion of the course. These project- and/or team-based internships will allow students to apply the skills learned throughout the course in a professional setting. This experience in conjunction with the hands-on learning throughout the program quickly prepares students for success in the workplace.
Maureen Hannon, Solutions Manager at MCOR, is excited about the opportunity this grant will provide to students.
"Not only will the students be able to apply what they have learned in the boot camps, they will be able to receive feedback for improvement. The internship will also provide opportunities for the student to develop a network of people in their chosen field that may help them in their job search," Hannon said.
The internship program will benefit the businesses that participate as well.
"We believe that companies who benefit from hiring MCOR-trained interns whose stipends are paid by the grant, will in turn continue to seek interns from the college that they may not otherwise have considered," Carolina VanIngen-Dunn, director of community college STEM pathways at SFAz said. "Our hope is that both MCOR and the companies that participate in this grant will develop a mutually beneficial and sustainable partnership."
Local businesses in need of IT interns are encouraged to contact Solutions Manager Sumy Joy at sumy.joy(at)maricopacorporate(dot)com. Students interested in enrolling in the IT Support Specialist or Web Developer Boot Camps can learn more at: http://www.maricopacorporate.com/mcorit
Science Foundation Arizona (SFAz) is a 501(c)(3) organization created from the collaboration of three Arizona CEO business organizations—Greater Phoenix Leadership, Southern Arizona Leadership, and the Flagstaff 40. This organization aims to diversify and strengthen Arizona's economy through various initiatives and grant opportunities such as this one. Learn more at: http://www.sfaz.org
About Maricopa Corporate College (MCOR):
From entry-level to executive training, MCOR delivers market-relevant, customized workforce solutions and education for employees in virtually every industry sector. Through a strategic business partnership model, MCOR assesses workforce training needs and develops and delivers customized and integrated solutions to meet those needs throughout all levels of an organization. MCOR is part of the Maricopa Community Colleges — one of the largest higher education systems in the nation with nearly 250,000 students, and a model of excellence internationally.