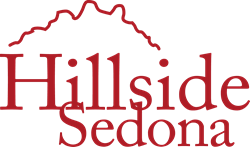 Sedona, AZ (PRWEB) January 27, 2016
Hillside Sedona Shopping Center, located at 671 State Route 179, Sedona, AZ, is excited to welcome their newest restaurant, The Hudson.
The Shugrue's describe the restaurant as "industrial chic" with a "hip, urban and sophisticated, fun vibe." The restaurant is offering chef-driven food for both lunch and dinner, along with cocktails and wine. Most of all, the restaurant is taking full advantage of the breathtaking views that Hillside Sedona offers their guests. The restaurant's deck is perched at the highest point in the plaza offering panoramic views of Sedona's majestic red rocks.
Executive Chef Jeff Storcz's menu is American grill with appetizers that include barbecued shrimp, calamari that is flown in fresh and bruschetta. Entrees include a selection of salads, burgers and sandwiches, along with prime steaks and flown in fresh seafood. Chef Storcz has also designed a menu of unique and tantalizing desserts. Local vendors are used to supply the fresh herbs and greens with seafood being flown in from Foley Farms on the east coast.
Hillside Sedona is proud to call the Shugrue's latest creation a resident within their plaza. This is the second restaurant for the Shugrue's at Hillside Sedona, with the Javelina Cantina located just below The Hudson. "With their more than 30 years of experience in the restaurant industry we know that anything they open will represent nothing but quality and class," says Karen Reynolds of Hillside Sedona. "Bringing on Chef Jeff Storcz, with his incredible resume of culinary achievements, along with the views we provide this restaurant is sure to be a 'go-to' destination for a night out on the town in Sedona."
For more information on Hillside Sedona and The Hudson log onto http://www.hillsidesedona.net/ or http://www.thehudsonsedona.com/.
Hillside Sedona:
In 1986, Shirley Caris developed Hillside Sedona, bringing to it the spirit of nature, artistic qualities and the essence of the town she now called home. An upscale retail shopping center, Hillside Sedona is home to fine art galleries, unique boutiques, a variety of restaurants, locally owned shops and the event venue, The Bridge at Hillside. The popular Northern Arizona destination is filled with sites and attractions that are sources of inspiration to many. In a setting with a view of the Red Rocks that surround the property, Hillside Sedona also is a perfect destination location for photography. http://www.HillsideSedona.net
Media contact:
Jose Miguel Santiago
Phoenix Marketing Associates
602-282-0202