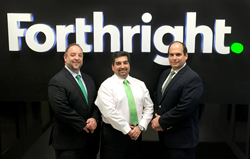 What I find most compelling about this new brand is that it puts everyone on notice about what to expect from this organization.
Miami, Florida (PRWEB) January 27, 2016
Synergy Development Consulting, Inc., a leading provider of information technology engineering and enterprise managed services, announces a company name change to Forthright Technology Partners, Inc.
The change in company name reflects a rebranding initiative designed to better represent the vision and values of the company, which has been providing leading edge technology solutions to corporations since its founding in 1992.
"As the company enters its 24th year in business, we felt it was fitting that our new brand clearly articulate our core values of trust, honor, and integrity upon which we've built our reputation," said Andrew Medina, CEO of Forthright. "What I find most compelling about this new brand is that it puts everyone on notice about what to expect from this organization."
Although the branding change is begins immediately, effective January 31st, 2016, Forthight will legally begin operating under the new corporate identity. The name change is the only aspect of the organization that has changed – all corporate ownership, federal and state ID's, address, and phone numbers remain the same. The company has launched a refreshed website at its new web address: http://www.forthright.com