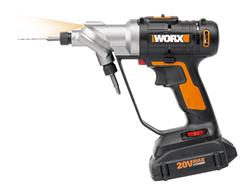 PowerShare's cost benefits come down to basic math. It also provides the convenience of storing or toting just one or two batteries rather than several.
Charlotte, N.C. (PRWEB) January 27, 2016
The new WORX® PowerShare system enables nine 20-volt MaxLithium cordless yard and shop tools to be powered by the same interchangeable battery, creating both cost savings and convenience. WORX 20-volt, cordless tools included in the PowerShare system are a string trimmer/edger/mini-mower, blower/sweeper, JawSaw, TURBINE blower, hedge trimmer, Switchdriver, drill-driver, impact driver, oscillating multi-tool and more.
The WORX 20-volt MaxLithium Battery (Model #50024065, $49.99) and WORX 25-minute Quick Charger (Model #WA3835, $49.99) are sold separately from the cordless tools described below. The powerful and lightweight 2.0 Ah battery delivers long-lasting performance for up to 18 months per charge without self-discharge or memory effect. Its 25-minute charger minimizes downtime and has a built-in charge indicator to alert the operator when the battery is fully charged. With the purchase of a second battery, the user always has fully charged backup available.
PowerShare's cost benefits come down to basic math. Once the battery and charger are purchased along with a 20-volt MaxLithium cordless tool, any of the remaining 20V tools in the line can be bought without a battery or charger at a significant cost savings.
PowerShare also provides the convenience of storing or toting just one or two batteries rather than several. At a work site, it takes only a few seconds to switch the low profile battery from one tool to another.
The WORX GT® 2.0 20V String Trimmer/Edger/Mini-mower (WG160.9, $49.99) converts from a trimmer to a walk-behind, wheeled edger or mini-mower in seconds. The 3-in-1 yard tool easily adjusts to fit the user's height and posture. It also features a 100 percent automatic, single-line feed system and Free Spools for Life.
The WORX AIR 20V Blower/Sweeper (WG545.9, $49.99) delivers 120 mph maximum air speed for clearing leaves and debris from lawns, decks, patios, sidewalks and drives. Eight attachments accomplish a variety of home applications.
The WORX 20V JawSaw (WG320.9, $99.99) cuts branches up to 4 inches in diameter. Its blade housing allows safe cuts directly on the ground, and its jaw design helps prevent kickback. Auto-tension provides optimum chain tension.
The WORX AIR 20V TURBINE Blower (WG546.9, $49.99) employs TURBINE fan technology that pulls air directly into the fan and immediately forces it out through the blower tube at up to 90 mph. The 340 cfm blower features a two-speed control to change air flow for light or heavy outdoor clean-up jobs.
The WORX 20V 20" Hedge Trimmer (WG255.9, $59.99) features dual-action cutting blades for reduced vibration and smooth performance. Its overmold handle reduces fatigue and improves the grip. A transparent hand guard deflects debris and increases visibility.
The WORX 20V Switchdriver Drill-Driver (WX176L.9, $49.99) has dual rotating chucks to quickly and smoothly switch between two drill or driver bits. Electronic torque control prevents stripping screws. Its ¼-inch hex chuck makes bit changes easy.
TheWORX 20V Drill-Driver (WX169L.9, $44.99) features a 2-speed gearbox and 15+1 clutch positions to handle a wide range of drilling and driving applications. The compact and lightweight drill-driver has a 3/8 inch keyless chuck and an LED work light with low battery indicator.
The WORX 20V Impact Driver (WX290L.9, $54.99) delivers 950 in.-lbs. of torque to drive or drill large fasteners in hardwoods and other tough materials. It's compact and lightweight to minimize operator fatigue. A ¼- inch quick-change chuck allows fast bit changes.
The WORX 20V Oscillating Multi-Tool (WX682L.9, $54.99) cuts, saws, sands, scrapes and polishes. The WORX Universal Fit™ System accepts all other brands' accessories. With variable-speed control the multi-tool is ideal for handling a variety of household, shop and yard projects.
All WORX 20V MaxLithium yard and shop tools carry a 3 year warranty and 30 day money back guarantee.
To reach out to WORX social media links visit: Facebook: https://www.facebook.com/worxus?ref=hl; Twitter: https://twitter.com/WORXTools; Pinterest: http://pinterest.com/worxtools and Instagram: @WORXTools.