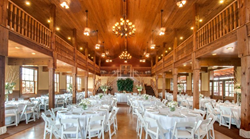 San Antonio, Texas (PRWEB) January 28, 2016
The RK Group is proud to announce Rosemary's Catering as the new venue manager and in-house caterer at The Grande Hall at Hofmann Ranch. Over the last few years, The RK Group has fostered a meaningful relationship with owners Hans and Charlotte Hofmann. Through this relationship, the many brands of The RK Group have had the opportunity to showcase their talents at Hofmann Ranch and together create unforgettable events.
The RK Group is delighted to collaborate with another family owned company who share the same standard of excellence in event services. Established in 2008, Hofmann ranch, once a 370-acre retirement nest, is now an elegant Texas Hill Country event venue, with indoor and outdoor facilities each hosting up to 300 guests for weddings, anniversaries, parties, corporate functions and other occasions. Pristinely maintained and nestled in Castroville Texas, the ranch also boasts views of the Medina Valley.
In this new partnership, Rosemary's Catering will manage all booking inquiries, marketing, and event production for the venue. The Off-Premise Catering Sales team will provide extensive knowledge of catering, hospitality, and service excellence. The team will uphold many of the policies and structures set forth by the Hofmanns, while infusing new culinary trends, elevating quality and maximizing client experience, in line with the venue's tradition. Charlotte Hofmann recalls, "when we hosted our first wedding in the Grande Hall, we worked on making things as perfect as possible, as though one of our own daughters were getting married." Rosemary's Catering is committed to continuing this level of service and the Hofmann's care for each client and event.
The lead Catering Sales Manager for this endeavor, Art Menchaca, is most excited about the opportunity to cultivate corporate and convention business during the week, facilitated through The RK Group's own destination management company, Circa DMC. By partnering with The RK Group, Hofmann Ranch clients have access to a breadth of resources from Circa DMC, Illusions Rentals and Designs, Flair Floral, and The RKD Studio.
# # # #
About Rosemary's Catering
Rosemary's Catering, rosemaryscatering.com, represents a 70-year history of outstanding catering service in South Texas, set forth by founder Rosemary Kowalski and continued today by two successive generations of culinary and event professionals. For every occasion and every taste, Rosemary's Catering brings passion for creative cuisine and gracious service to any setting. From a garden wedding or corporate retreat to a charitable gala, our imagination and total event capabilities are as renowned as they are unlimited. Rosemary's Catering is the flagship of The RK Group. The RK Group, http://www.therkgroup.com, is an industry-leading hospitality and culinary service management company operating the nation's most distinguished event centers, museums, restaurants, hotels and convention centers.
About The RK Group
The RK Group is an industry-leading hospitality and culinary service management company operating the nation's most distinguished event centers, museums, restaurants, hotel kitchens and convention centers. Their breadth of services includes a single, cost-efficient solution for all catering, event production and management. The RK Group is privately held and diversified through their wholly owned companies: Circa DMC, Rosemary's Catering, Illusions Rentals and Designs, Flair Floral, and restaurants, Radio Milano, Milano Bar, Capitol Grill, and The Story of Texas Cafe. For more information visit: http://www.therkgroup.com
About Hofmann Ranch
Texas Hill Country and fine architectural craftsmanship beautifully converge on a scenic hilltop at the Grande Hall at Hofmann Ranch. Owners, Hans and Charlotte Hofmann, fell in love with this country paradise when they first laid their eyes on it. Now, the ranch's three indoor and outdoor event facilities can each host 200 to 300 guests. Whether you are celebrating a wedding or anniversary, party for family and friends or corporate event, your guests will relish their time in this tranquil country setting that is only 25 minutes from downtown San Antonio. hofmannranch.com