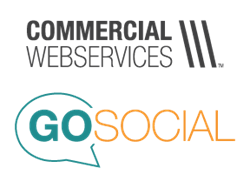 Norfolk, VA (PRWEB) January 28, 2016
Commercial Web Services has announced the launch of a new product, GoSocial, expanding online marketing solutions for its dealer network.
GoSocial is an industry-first social media management solution for commercial truck, equipment and agricultural dealers. The service consists of weekly content postings to Facebook and Twitter, monthly advertising and reporting, and social page creation and/or optimization of a current social page.
"Many dealers know that social media is crucial to their online success, but they either don't have the time to manage it or they don't understand how to make it effective," said Ricardo Porter, general manager of Commercial Web Services. "That is where we step in with GoSocial and our team of social media experts, managing it for them."
According to Randall Reilly's Equipment World Connectivity Study, there are more than 300,000 contractors on Facebook and 57,000 on Twitter. With GoSocial, commercial dealers can connect with a large group of prospective customers they otherwise might miss.
If you are interested in how Commercial Web Services can help you manage your social media presence through GoSocial, please call 866-529-6008 or email us at marketing(at)commercialwebservices.com.
For more information on Commercial Web Services, please visit http://www.commercialwebservices.com.
About Dominion Commercial Solutions
From websites and software to marketing and advertising, Dominion Commercial Solutions (a division of Dominion Enterprises) delivers innovative business solutions to commercial dealerships. As an established industry leader, Dominion Commercial Solutions (DCS) is committed to providing innovative products to ensure that manufacturers and dealers generate leads, drive sales and maximize profits. From professionally designed websites to world-class advertising, Dominion Commercial Solutions provides a full suite of solutions to meet the demands of today's truck, trailer, agriculture and construction equipment dealerships