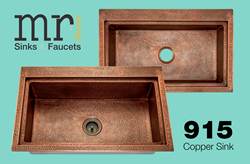 it can be mounted either over or under the countertop
Toledo, Ohio (PRWEB) January 28, 2016
For years, artisans have been meticulously hand-hammering copper into the various forms of MR Direct sinks for use in both the kitchen and bath. Each design has a unique appeal and purpose. Today, another distinct style, model 915, is being introduced to fill the niche of consumers who have a very busy, but still want a very beautiful, kitchen.
Household cooks know that there is never enough work space when preparing simple meals, let alone extensive ones. For this reason, the MR Direct engineers set their minds to providing a sink with the inherent allure of copper, but with the practicality needed by the meal-makers of large and small families alike.
The 915 sink is a single-bowl design, but what makes it unusual is its ledge, running around the interior perimeter and indented by 3/4" on all sides. This ridge is not superficial. It provides the resting point for two (included) shallow copper trays. One is a solid basin, the other perforated; both are conveniently available to aid in any type of food prep. Each is rectangular in shape and covers nearly half of each side of the sink. If both are in use, there is still plenty of room to access water from the faucet.
Another rare feature of this large rectangular sink is that it can be mounted either over or under the countertop. The perimeter edges of the 915 are smooth and slightly beveled, making them both attractive and functional when installed in a traditional top-mounted fashion; yet flat enough to allow the sink to be mounted in a contemporary under-the-counter manner as well. A cutout template and necessary installation hardware is included.
The 915's one-piece construction features a beautiful hand-hammered finish which is naturally anti-bacterial and stain-resistant. As with all MR Direct copper sinks, this model has an ever-changing patina as the copper reacts with the environment. Besides adding a gradual and attractive antiquated appearance to the sink, it also masks small scratches and blemishes which might occur over time.
Overall, the 915 dimensions are: 31 1/2" x 19 3/4" x 8 1/2", with its interior measuring 27 ½" x 14" x 7 ¾". A copper strainer and flange are available to fit the centerset 3 1/2" drain, and a spray insulation coating on the underside of the sink keeps noise to a minimum while also preventing condensation.
The new 915 can be further reviewed along with all the MR Direct copper sinks, at http://www.MRDirectint.com.