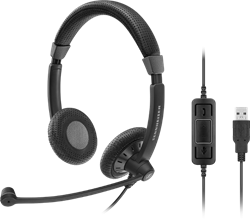 In-person demonstrations are the best way to exemplify just how vital audio intelligibility can be in a contact center environment, especially when a business has invested in an advanced solution."
Old Lyme, Conn. (PRWEB) January 26, 2016
Sennheiser, a leading provider of premium headsets and speakerphone solutions, announces it will conduct live demonstrations of its unified communications product line at ITEXPO, taking place from January 26 to 28 at the Greater Fort Lauderdale/Broward County Convention Center in Fort Lauderdale, Florida.
The Sennheiser booth, # 635 will include the newly-launched Culture Plus headset, a Skype for Business-certified, wired model designed to help companies facilitate a transition to a unified communications (UC) environment. It features a comfortable fit, eye-catching style and superior voice quality, creating an effective tool to help personnel migrate seamlessly to a sophisticated UC system.
The Sennheiser exhibit will also spotlight the OfficeRunner DECT (Digital Enhanced Cordless Telecommunications) headset, manufactured by Sennheiser and available exclusively through Headsets.com. The OfficeRunner® features Sennheiser's ActiveGard noise cancellation in a binaural or monaural version, and allows users to travel as far as 400 feet from their workstations while still maintaining audio quality. Additional CC&O (contact center and office) models at the booth will include the D 10 series; the SD wireless, Century, Circle, Culture, MB and PRESENCE units; plus Sennheiser's award-winning SP 10 and SP 20 mobile speakerphones for SMB.
All headsets in Sennheiser's CC&O portfolio are certified for Skype for Business, along with many other leading global Unified Communications providers, boasting an extensive set of characteristics such as noise cancellation, superior voice intelligibility, long-wearing comfort and market-leading durability. These amenities differentiate Sennheiser's solutions, making them an appropriate addition to an advanced UC infrastructure. Use of premium audio products in a call center environment has been shown to increase productivity and end-customer satisfaction, since greater vocal intelligibity and clearer transmissions lead to shorter agent calls per customer, and alleviated agent duress. Such assets not only live up to the quality and premium performance associated with a high-end unified communications system, it also increases the ROI of that infrastructure.
"ITEXPO is an exciting opportunity for us to convene with decision-makers from across the telecommunications industry. It is an outstanding forum to demonstrate how integral high quality audio is to the effectiveness of a unified communications deployment," said Bill Whearty, vice president, sales and marketing, CC&O, Americas, Sennheiser Electronic Corp. "In-person demonstrations are the best way to exemplify just how vital audio intelligibility can be in a contact center environment, especially when a business has invested in an advanced solution."
About Sennheiser
Audio specialist Sennheiser is one of the world's leading manufacturers of headphones, microphones and wireless transmission systems. Based in Wedemark near Hanover, Germany, Sennheiser operates its own production facilities in Germany, Ireland and the USA and is active in more than 50 countries. With 18 sales subsidiaries and long-established trading partners, the company supplies innovative products and cutting-edge audio solutions that are optimally tailored to its customers' needs. Sennheiser is a family owned company that was founded in 1945 and which today has 2,700 employees around the world that share a passion for audio technology. Since 2013, Sennheiser has been managed by Daniel Sennheiser and Dr. Andreas Sennheiser, the third generation of the family to run the company. As part of the Sennheiser Group, the joint venture Sennheiser Communications A/S is specialized in wireless and wired headsets and speakerphones for contact centers, offices and Unified Communications environments as well as headsets for gaming and mobile devices. In 2014, the Sennheiser Group had sales totaling €635 million. http://www.sennheiser.com