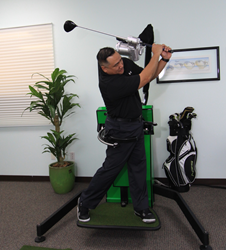 What makes RoboSwing unique and sets it apart from every other training aid on the market, is the ability to guide a golfer's weight-shift and hip rotation while guiding all club positions
San Diego, Calif. (PRWEB) January 26, 2016
Robo Innovations is pleased to announce that they will attend the 2016 PGA Merchandising Show January 27-29 in Orlando, Florida, where they will introduce their latest product, RoboSwing as well as the next generation of RoboPutt.
Located at booth #800, near the PGA Forum stage, Robo Innovations will unveil these robot-guided training devices offering complete solutions to improve a golfer's performance and help one gain and ingrain the muscle memory of their ideal, personalized golf swings.
"What makes RoboSwing unique and sets it apart from every other training aid on the market, is the ability to guide a golfer's weight-shift and hip rotation while guiding ALL club positions," said Joe Sery, RoboSwing's inventor and the managing partner of Robo Innovations. "With a small facility footprint requirement, ease of operation and customization, RoboSwing is the ideal addition to any golf training facility, especially when considering the PGA Show introduction price of $59,985," Sery said.
Realizing that each and every golf instructor has his/her own teaching methodology, we designed our robots so as to enable the pros to introduce their unique teaching methods and customize each robot to the individual trainee. Over the past few years, studies have shown that robot-guided technology used in golf instruction has proven to expedite learning, especially when it comes to new and beginning players.
While Robo Innovations will have specials on RoboSwing and RoboPutt at the PGA Show, the company offers outright purchases for qualified individuals, as well as a financing program with a 0% APR for 5 years, effectively having the robot pay for itself in 5 years. For an in-depth look at what Robo Innovations has to offer, please visit booth #800 at the 2016 PGA Merchandising Show. Those not attending the show, but still interested in obtaining a RoboSwing or a RoboPutt for their golf facility, should email info(at)roboinnovations(dot)com.
For more information, visit roboinnovations.com. For media inquiries, please contact Gil Sery at gil(dot)sery(at)roboinnovations(dot)com, or by phone at 858-693-8900 or 858-805-5726.