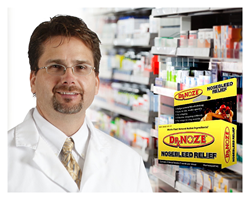 Delivering an improved product to people has been a challenge, but we have to meet the needs of this under-served condition
Cottage Grove, WI (PRWEB) January 26, 2016
Greg Dockter, RPh, Founder of ByzMed, LLC, the maker of DRxNoze® Nosebleed Relief, announced upcoming changes in the packaging for its flagship product in 2016. ByzMed, LLC has taken customer feedback and applied this to the redesign. This new design will allow for customers to better apply the product for prevention of nose bleeding.
As of now the product has worked well to stop nose bleeding but they were looking for ways to better pre-treat areas prone to bleeding. This new packaging will allow for more of the active gel to be present in the packaging.
"It has been great to hear feedback from our customers so we can understand what they are looking for and how they use it in their day to day lives. I completely understand people's frustration with nose bleeding, after suffering for so many years with them. Delivering an improved product to people has been a challenge, but we have to meet the needs of this under-served condition," Dockter stated.
Sometimes people can tell when a nosebleed is going to occur, especially for those that have frequent nosebleeds. Preventing this messy and frustrating situation has been a goal of ByzMed, LLC for a while. As founder and inventor of the product, Dockter set himself up with some of the conditions that bring nosebleeds on faster, plus the dry cold weather of winter has assisted with this as well. By applying the gel to the area of the nose prone to bleeding it temporarily closes down the small blood vessels in that are making it less likely to bleed.
DRxNoze® Nosebleed Relief is available for purchase at http://www.DRxNoze.com along with Amazon.com and select retailers. The new packaging will be introduced later in 2016. If you would like to have this available at your local retailer contact them to see how they get this in for your healthcare needs.