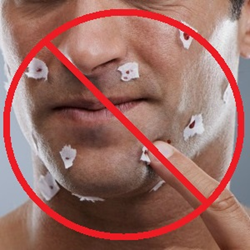 Yes, this does involve some painful shaving
Cottage Grove, WI (PRWEB) January 28, 2016
ByzMed, LLC, the maker of DRxNoze® Nosebleed Relief, announced the expansion of its product line. ByzMed, LLC is in development of a topical skin product to stop minor bleeding. The product's natural active ingredients stop the minor annoyance bleeding such as cuts from shaving.
The new innovation from DRxNoze® is a reformulation of its previous work for nose bleeding. This formulation will come in a cream and will be able to be applied to the area of minor bleeding and left on for a few minutes, then washed off, without having to apply continuous pressure to the wound in many cases. This allows an individual the opportunity to apply the cream and continue about their activity, such as continuing to get dressed, then wash off the cream after a few minutes.
The product works by stopping blood flow with astringent and hemostatic properties. The product works similar to a styptic pencil but without the excessive stinging and unsanitary mess when dealing with blood issues.
Most often when a person cuts themselves shaving they will apply a small piece of toilet paper to absorb the blood, so they can continue to get dressed. Removing this toilet paper can cause area to re-bleed, and then they are back to square one to stop the bleeding again. Plus they can leave a dark scab at the area of the cut. But by applying the newer cream will allow the bleeding to stop faster without the awkward and embarrassing scab that might form.
Greg Dockter, President and founder of ByzMed, LLC and a registered pharmacist, realized the product line extension possibilities after cutting himself shaving.
"I have been doing some trials at home to make sure the product will work as intended. Yes, this does involve some painful shaving," stated Dockter.
Being a pharmacist Dockter realizes that many patients on blood thinning medications that would need some assistance if there was any minor cut. As with the original formula he made sure to take into account interactions with medication and health conditions to minimize any risk of side effects when using the medication.