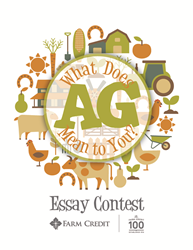 (PRWEB) January 27, 2016
Farm Credit is celebrating its 100th birthday this year. In honor of the year long centennial celebration, Farm Credit of the Virginias is launching the 'What Does Ag Mean to You?' youth essay contest! The contest kicks off January 25 and will run through March 31.
Those interested in participating in the contest will fall into one of two groups: 13-15 years of age OR 16-18 years of age. Essays must be a minimum of 500 words and no more than 600 words; these essays can be submitted at: FarmCreditOfVirginias.com. The 'What Does AG Mean to You?' essay contest will award a total of 6 winners (3 per group)—first place, $300, second place, $200 and third place, $100. We look forward to receiving many fantastic essays!
About Farm Credit of the Virginias
Farm Credit of the Virginias provides over $1.5 billion dollars in financing to more than 10,000 farmers, agribusinesses and rural homeowners throughout Virginia, West Virginia and western Maryland. Farm Credit is a cooperative capitalized largely through investments made by farmers, ranchers and the rural homeowners and businesses that borrow from them. Farm Credit helps maintain and improve the quality of life in rural America and on the farm through its constant commitment to competitive lending, expert financial services and for facilitating and sharing knowledge and resources through the Farm Credit Knowledge Center. For more information, visit http://www.FarmCreditKnowledgeCenter.com or http://www.FarmCreditofVirginias.com.