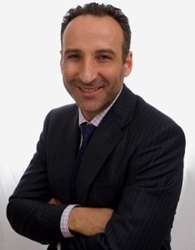 (PRWEB) January 27, 2016
Ran Y. Rubinstein, MD is excited to announce an upcoming showcase for the newest and most effective nonsurgical technique in eliminating submental fat, the CoolMini. Part of the CoolSculpting family, the CoolMini offers unmatched results for dissolving the double chin. Dr. Rubinstein's CoolMini Event will be held in his office on February 10th.
Submental fat is a normal part of the aging process, but lifestyle and genetics can also contribute to the appearance of a double chin. This accumulation of unwanted fat underneath the jawline is impossible to address through diet and exercise. Making matters worse, the double chin cannot be concealed under clothing.
In 2015, the CoolMini debuted from the makers of CoolSculpting. Its compact size and unique curved shape was made to treat small pockets of fatty tissue, especially under the chin. The procedure takes only one hour, is painless, and requires no downtime. The body safely eliminates the dead fat cells over the two to three months following treatment, and the benefits will continue to improve during this time. Some patients note changes to their appearance in as few as three weeks.
The CoolMini Event at Laser and Cosmetic Surgery Specialists will give potential patients a chance to see the innovative technique for themselves with a free, live demonstration. Dr. Rubinstein will present a short lecture on the CoolMini and explain the advances CoolSculpting has made in the science of bodysculpting. Those attending the CoolMini Event will be registered in a drawing for free treatments.
In addition to the CoolMini demonstrations, Dr. Rubinstein will be celebrating his status as the area's number one CoolSculpting provider with champagne and chocolate covered strawberries. To date, the practice has performed more CoolSculpting treatments in the Lower Hudson Valley than any other practice. Dr. Rubinstein's skill and experience have made him one of the most sought after providers for body sculpting treatments in New York.
Laser and Cosmetic Surgery Specialists are well known for bringing patients the latest in noninvasive procedures. Dr. Rubinstein explains the trend toward noninvasive rejuvenation, "There is definitely a shift away from more invasive surgeries. People are fearful of taking extra time off from work; their job might not be there for them when they return." He continues, "Our goal (at Laser and Cosmetic Surgery Specialists) has always been to help people put their best faces forward."
Adding the CoolMini to his repertoire, Dr. Rubinstein can now provide patients with a valuable option in eliminating the double chin. Additionally, when combined with Kybella, an injectable designed for fat elimination below the jaw, patients will find unprecedented results.
Register now to attend Dr. Rubinstein's CoolMini Event on February 10th, as spaces will fill up quickly. Contact the Newburgh office at 845-863-1772 to reserve your spot. If you cannot attend the CoolMini evening, but would like to know if the noninvasive treatment is for you, a complimentary consultation appointment with Dr. Rubinstein can be arranged.
Contact:
Laser & Cosmetic Surgery Specialists, PC
200 Stony Brook Ct #2
Newburgh, NY 12550845-863-1772
http://www.yourfacemd.com