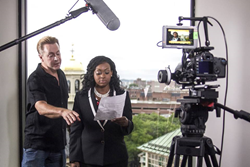 We are thrilled to assist businesses with their video needs and encourage brands to take advantage of video marketing now.
Boston, MA (PRWEB) January 28, 2016
Pepper Gang Digital Marketing Agency has announced their service offering expansion to include video marketing services. Pepper Gang aims to provide high quality video production offerings through the partnership with Sound and Vision Media, a prestigious video production company with over 40 years experience in the Greater Boston area.
Video Marketing is expected to dominate the industry in 2016. 61% People have higher purchase intent after watching a brands 30 sec video. According to ReelSEO's Video Marketing Survey and Business Trends Report, 93% of marketers are using video in their campaigns.
"We are enthusiastic about expanding our service offerings and expanding a relationship with Sound and Vision Media. In communicating with Steve Birenbaum, it was clear that their ideas and proven methods of success complemented our mantra and the goals we set for our clients." said Stefanie Daneau, the co-founder of Pepper Gang. "With the growing consumption of video, we've seen a strong demand for video marketing in the industry. In order to provide a more comprehensive and convenient service, we decided to partner with one of the most prominent media production studios in the area to enhance our capability in this field. We are thrilled to assist businesses with their video needs and encourage brands to take advantage of video marketing now."
"Video is the new document." said Steve Birenbaum, Strategic Sales Consultant of Sound and Vision Media. "Everything is different now in the sense that most stagnant words and pictures are replaced by a captivating video which in result will help build trust between a business and a consumer."
The expansion of video marketing service reflects the agency's growth and allows it to take place among few digital marketing agencies that provide one-stop full-service video marketing in downtown Boston. Video marketing will be one of the agency's main focuses in the next six months. The new video production services include:

Video ideation and planning
Video editing/graphics and recording
Audio and voiceover options
Script writing
To encourage brands to try video marketing, starting on January 2016, businesses around the nation are able to receive video marketing strategy consultation at no cost from Pepper Gang's video marketing certified team. To learn more about the details of their video marketing services, please visit Pepper Gang's website, or contact them directly at 617.674.2100.
About Pepper Gang:
Pepper Gang is a Boston based digital marketing agency that specializes in creating strong, innovative integrated marketing solutions. The company was born out of a desire to tell each brand's story in a way that compels like-minded consumers to align with the brand. Pepper Gang combines original thinking, creativity, and analysis to propel the growth of each client's customized strategy.
About Sound and Vision Media:
Sound & Vision Media is Boston's premier video production facility, featuring a spacious production studio, green screen capabilities, an audio recording studio, and HD video editing suites. It provides full media production services, from scripting to post-production, at reasonable rates. The company specializes in corporate video, radio and television commercials, marketing and fundraising videos, as well as video for the web.