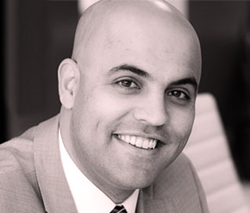 "Kumar's energetic, attentive and client-focused approach to the practice of law aligns perfectly with our firm's core values." Steven J. Tinnelly, Esq., Managing Shareholder
Mission Viejo, CA (PRWEB) January 28, 2016
Tinnelly Law Group, PC, one of the top California HOA law firms, is proud to announce the addition of attorney Kumar S. Raja, Esq. to the firm.
Mr. Raja earned his Juris Doctorate from Loyola Law School in 2002, where he was a Scott Moot Court Participant. During law school, Mr. Raja completed externships at the Office of the Los Angeles City Attorney and the U.S. Bankruptcy Court, where he worked for the Honorable Kathleen March. He has an undergraduate degree in Economics from the University of California, Los Angeles (UCLA), where he wrote for the school newspaper, the Daily Bruin.
Prior to joining the California HOA law firm, Mr. Raja assisted with the representation of several large master-planned communities throughout Southern California. Most notably, he successfully represented a community in an action that resulted in a published decision before the California Court of Appeal. He has been an invited guest lecturer at multiple continuing education seminars involving community associations and condominium formation.
Mr. Raja's extensive litigation experience in the courtroom has given him the expertise to counsel the firm's clients in the boardroom with respect to the long-term benefits and costs associated with Board actions.
"Kumar's energetic, attentive and client-focused approach to the practice of law aligns perfectly with our firm's core values," says Steven J. Tinnelly, Esq., Managing Shareholder. "We are thrilled to have such a talented attorney join our growing team. We are confident he will be a tremendous asset both to our firm and its clients."
About Tinnelly Law Group
Tinnelly Law Group, PC is recognized by the community association industry as one of the top California HOA law firms. Since the firm's founding in 1989, 100% of its efforts have been dedicated to representing HOAs and providing them with sensible and cost-effective solutions to their diverse legal problems. It counsels hundreds of HOAs throughout California through legal issues related to corporate governance, enforcement, maintenance, insurance, litigation and transactional matters. Tinnelly Law Group recently launched FindHOALaw, a robust resource for HOA law and legal information. Its substantial volume of content and easy-to-use interface help users better understand the unique body of law governing HOAs in California. Tinnelly Law Group also provides its clients with access to comprehensive assessment collection services through the use of its affiliate, Alterra Assessment Recovery. Tinnelly Law Group has offices in Orange County, San Diego, Riverside County, Los Angeles, and the San Francisco Bay Area. Member CAI, and CACM.