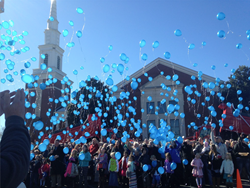 This means we will no longer have to pay $12,347 a month for the next 10-plus years for debt. This means we can now do more for missions and revitalize our family ministries.
Dallas, TX (PRWEB) January 28, 2016
The scenario is all too familiar. A church is presented with an emerging opportunity to grow or connect with its community. The leadership has the vision, people in the congregation are motivated, but the church can't move forward. The problem: Financial debt.
Lingering financial debt that prohibits a church from fulfilling its mission is a common issue among America's churches, which are collectively billions of dollars in debt. The financial red ink is no respecter of denominations either. It is reported that churches affiliated with one of the nation's largest denominations combined owe more than $3 billion in building debt alone. However, many churches are beginning to fight back. First Baptist Church, Mauldin, South Carolina, is one of those churches.
Mauldin is located in the western part of South Carolina and is just outside of Greenville. Founded in 1904, First Baptist is a moderately sized historic church. It has seen periods of growth through the years, but church leaders saw an opportunity diminishing because of lingering debt. Collectively, the church decided to do something about it.
"At the beginning of 2014 we were carrying about $1.6 million in debt," said Wade Leonard, First Baptist's pastor. "We knew to move forward it was something we needed to address directly."
According to an article published in Church Executive Magazine, banks are more confident lenders to churches that secure the services of a professionally guided stewardship campaign. Statistically, professional campaigns generally achieve desired results. A capital campaign can bridge the gap between what a church could afford based on historical basis, and what it will take to service the post-campaign indebtedness. However, in First Baptist Church Mauldin's case, the goal was to erase the existing debt that lingered.
First Baptist's leadership team secured the services of RSI Stewardship, one of the oldest and most trusted capital fundraising and stewardship consulting firms in the country. After sizing up the problem, the next step was to develop a plan that quickly led to debt retirement.
RSI's Mark Blackmore worked with the church on its "Dump The Debt" Campaign, which started in the spring of 2014. Phase 1 was to completely retire the $1.6 million debt the church was carrying so that it could then move to Phase 2, which was to renovate the sanctuary.  
Under Blackmore's guidance, the church retired all the debt by the end of October 2015 except for about $250,000. Leaders issued a challenge to cover the remaining debt before the end of the year so that the church could begin 2016 with a fresh ministry state. First Baptist's December 31 offerings were enough to cover the little that remained. The church celebrated January 24 with an official debt-retirement ceremony.
"We wanted to celebrate what God has done through his people," Leonard said. "This means we will no longer have to pay $12,347 a month for the next 10-plus years for debt. This means we can now do more for missions and revitalize our family ministries. Mark helped our church come up with just the right game plan at just the right time. We came a long way in a short period of time."
The enthusiasm for what lies ahead is shared by those who helped.
"Think what First Baptist Mauldin will be able to do with that additional $12-plus thousand dollars a month for the next ten years," said Joel Mikell, president of RSI. "That is a significant amount of money now available to apply toward ministry goals. What a privilege to help them retire that debt and to celebrate with them the completion of their Dump the Debt campaign."
About RSI Stewardship
Founded in 1972 as America's first company devoted solely to the fundraising needs of Christian churches, schools, and other faith-based organizations, RSI is the nation's leading resource for practical, faithful, and effective stewardship counsel. The experience and leadership at RSI has made the difference for more than 17,000 partners in ministry.