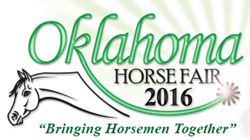 Duncan, OK (PRWEB) February 10, 2016
The Oklahoma Horse Fair will be held at the Stephens County Fair & Expo Center on Feb 12-13th, 2016. In its 14th year, the fair will include a trade show, stockdog trials and demonstration, ranch rodeo, and more.
The event will kick off at 9:00 AM on Friday, Feb 12 with the Sundowner Stockdog Association Trial and Demonstration. The remainder of the day may be spent at the western trade shows, which will close at 10:00 PM.
Events will begin again at 8:30 AM on Saturday, Feb 13, with a schedule of events including a preview of rope horses, barrel horses, and select mules. The day will also include a miniature horse, premier pony, and mule sale, featuring 130 top consignments from reputable breeders, trainers, and ranchers. The day will wrap up with the Chisholm Trail Invitational Ranch Rodeo, beginning at 7:00 PM.
Throughout both days, you may enjoy the Western Trade Show and Swap, which will include over 80 vendors offering everything you might need for your horse and rider.
Admission to the trade show and auction are free. All event schedules and info, as well as horse sale and trade show information, may be found online at http://www.okhorsefair.com. For information about Duncan please call The Duncan Convention and Visitors Bureau at 1-800-782-7167 or visit us online.