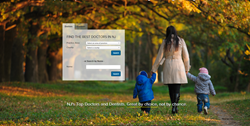 Scotch Plains, NJ (PRWEB) January 27, 2016
As the Presidential candidates' debate over various issues such as foreign policy, immigration and budgetary spending, a red button topic is always healthcare. So while the politicians are debating it all, one question that arises in everyone's life is, "Where can I start to find a great doctor or dentist?"
Well, the answer is simple, online of course. Did you know that according to Google, 77% of potential patients start their healthcare search online, with 1/3 of them using a mobile device? NJ Top Docs & NJ Top Dentists re-vamped new site is one of the first places they may start and we are now totally mobile friendly.
Donning a brand new look, http://www.NjTopDocs.com and http://www.NJTopDentists.com feature what they always have, an exclusive group of doctors and dentists who have been put through a rigorous review process in which they must meet certain criteria to be approved as "NJ Top Docs" and "NJ Top Dentists". "NJ Top Docs & NJ Top Dentists place an extraordinary high value on their selection process, only the best doctors who have earned this award based on merit are approved as NJ Top Docs & NJ Top Dentists", says Cristina Mendez, Director of Marketing & Client Relations, USA Top Docs, LLC.
"Finding the right doctor to care for you and your family can be a frustrating experience," said, Susan C. (a local NJ resident). "As you search for a doctor there are many questions that need to be answered. Where are they located?, do they take my insurance?, when are they open?, but most importantly, are they the right doctor for me and my family?"
The newly re-vamped websites boast exciting new features; such as its mobile-friendly interface, upgraded search bar with additional search features, and multiple interactive tabs showcasing educational background, list of services, and contact information about the providers.
Over 900+ doctors, dentists and other healthcare providers are featured on the site, in an easy-to-use (search), county and medical specialty format. The goal is to provide New Jersey residents with a complete informational resource to assist them when choosing a Healthcare Provider and now in a mobile friendly, more personalized format.
About Us
NJ Top Docs (a division of USA Top Docs) is a comprehensive information resource of Top Doctors, Dentists and Hospitals in New Jersey. We are profiling over 900 Healthcare Providers and have made it convenient for you to find them. NJ Top Docs allows patients to "meet" these providers online before making their appointment.
For more information, visit http://www.NJTopDocs.com & http://www.NJTopDentists.com
You can also follow us on Facebook – Twitter