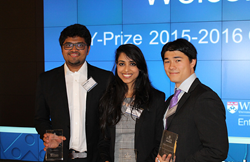 Philadelphia, Pennsylvania (PRWEB) January 26, 2016
The University of Pennsylvania announced that student team Fermento won the $10,000 Grand Prize of the 2016 Y-Prize Competition, which includes rights to commercialize their application of Penn-owned biomedical engineering technology. The prize was awarded on the University of Pennsylvania's campus at the fourth annual Y-Prize Grand Finale on January 25, 2016.
The winning proposal would speed up the fermentation process in beer production by up to 9 times while maintaining alcohol quality and composition at an industrial scale, leading to substantial cost reductions. The Fermento team, consisting of Alexander David, Shashwata Narain, and Siddharth Shah, students in the Wharton School and the School of Engineering and Applied Science, selected microfluidic fabrication technology developed by Dr. David Issadore's lab as the basis for a technological solution to this problem.
The team proposes using the microfluidics technology to accelerate the rate at which yeast converts sugar to alcohol by 70%, accomplished by increasing the surface area of liquid sugars exposed to the yeast. This process typically takes up to three weeks in a standard batch reactor setting, making it the longest step in the $520 billion global industry's production process.
This is not the first entrepreneurial venture for team members Siddharth Shah and Shashwata Narain. The former is the founder and CEO of two startups, in Dubai and in India, in the financial services and ecommerce industries respectively, and the latter has worked in product development at a logistics technology startup in India. They have also entered their winning idea in the Wharton Business Plan Competition. Their advisors include executives at MillerCoors, Anheuser Busch InBev, Biocon India, and Heineken.
Fermento went head-to-head against two other teams at the Grand Finale with ten-minute presentations followed by questions from a panel of judges. The panel consisted of biotechnology experts and venture capitalists who evaluated the market potential and technical feasibility of each pitch.
Co-sponsored by Penn Engineering, the Mack Institute for Innovation Management, Wharton Entrepreneurship, and Penn Center for Innovation, the Y-Prize is a cross-disciplinary competition in which student teams propose innovative commercial applications for technology invented by University of Pennsylvania researchers. In its fourth year, the focal technology was biomedical engineering technology developed by researchers at The Penn Image Computing and Science Laboratory, the Penn Center for Neuroengineering & Therapeutics, and the Issadore Lab. Current Penn Engineering Dean Vijay Kumar co-founded the competition in 2012 with David Hsu, Richard A. Sapp Professor at the Wharton School, and Mark Yim, Professor of Mechanical Engineering and Applied Mechanics.