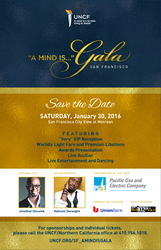 (PRWEB) January 27, 2016
UNCF San Francisco Leadership Council Hosts its' Annual A Mind Is ... Gala.
UNCF (United Negro College Fund) San Francisco Leadership Council will host its annual UNCF "A Mind is …" Gala on Jan. 30th. This fundraising event recognizes the extraordinary work of corporations and individuals who have made significant contributions to UNCF's work to improve the educational outcomes of African American and other minority students. This year's program is supported by major sponsors and friends including: Presenting Sponsor Union Bank, Oracle, Wells Fargo, Dignity Health, Net App, the Golden State Warriors and Radio 102.9 KBLX. Additionally, Pacific Gas and Electric Company (PG&E) will be presented with the 2016 Corporation of the Year for their dedication and support of UNCF.
Hosted by Actor/Comedian Jonathan Slocumb, close to 500 guests, including business and civic leaders, will be in attendance. The event is co-chaired by Gwen McDonald, Executive Vice President of Human Resources with NetApp and Brenda Wright, Senior Vice President, Manager of Community Relations for Wells Fargo. The event will feature a VIP reception, live auction, awards presentation and keynote address by Dr. Beverly Wade Hogan, President of Tougaloo College – one of the 37 historically black colleges and universities UNCF supports- and a UNCF Institutional Director and Secretary of the Members. Entertainment will be provided by R&B singer Raheem DeVaughn.
WHO: UNCF San Francisco Leadership Council
WHAT: UNCF "A Mind Is…" Gala
WHEN: Saturday, January 30, 2016, VIP Reception-6:30 p.m. (invite only), Dinner and Awards Presentation-7:30 p.m.
WHERE: City View at Metreon, 135 4th Street, Suite #400, San Francisco, CA
Please contact Angela Wilbourn at angela.wilbourn(at)uncf(dot)org or 415.956.1018 for questions about event sponsorship or individual tickets, which are $200.
###
About UNCF
UNCF - United Negro College Fund is the nation's largest and most effective minority education organization. To serve youth, the community and the nation, UNCF supports students' education and development through scholarships and other programs, strengthens its 37 member colleges and universities, and advocates for the importance of minority education and college readiness. UNCF institutions and other historically black colleges and universities are highly effective, awarding 20 percent of African American baccalaureate degrees. UNCF administers more than 400 programs, including scholarship, internship and fellowship, mentoring, summer enrichment, and curriculum and faculty development programs. Today, UNCF supports more than 60,000 students at over 900 colleges and universities. Learn more at http://www.uncf.org.