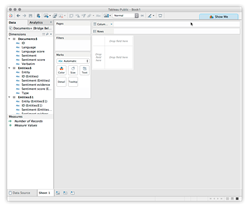 If it's on your Mac desktop, you'll be able to easily integrate with text analytics, enabling the critical addition of context to your analysis that would otherwise be missing
Boston, MA (PRWEB) January 26, 2016
Lexalytics®, the leader in cloud and on-prem text analytics solutions, announced today that its Semantria® software-as-a-service (SaaS) platform is now available as a desktop application for Mac® users. With Semantria for Mac, analytics professionals in customer experience management and social media marketing can quickly and easily analyze the sentiment and meaning of text documents stored locally on a Mac via the Semantria platform, without the additional coding associated with other commercially available text analytics solutions and APIs.
In this new application, Semantria for Mac eliminates the back-end work typically required with text processing. By separating out the text processing from the "in's and out's" of the system, users can easily and quickly roll out direct integrations with popular business intelligence, visualization and statistical analysis applications. Lexalytics plans integrations that will provide completely new abilities in interactive unstructured and structured data analysis.
"This is different than providing an API and will open the door to simple integration and use with a wide range of different applications. If it's on your Mac desktop, you'll be able to easily integrate with text analytics, enabling the critical addition of context to your analysis that would otherwise be missing, " said Jeff Catlin, CEO, Lexalytics.
Currently, Semantria for Mac pulls in Excel® format files, including files exported from applications like SurveyMonkey® and Google Forms, as well as handling directories populated with text files. Outputs include Microsoft Excel spreadsheets, compatible with visualization tools like Tableau™, Qlik, Microstrategy, as well as JSON format output -- suitable for ingestion in Elastic Search and other tools.
Semantria for Mac is available now at https://www.lexalytics.com/semantria/mac included free as part of any Semantria subscription.
About Lexalytics®
Processing billions of unstructured documents every day globally, Lexalytics is the industry leader in translating text into profitable decisions. Lexalytics deploys state-of-the-art cloud and on-premise text and sentiment analytics technologies that transform customers' thoughts and conversations into actionable insights. The on-premise Salience® and SaaS Semantria® platforms are implemented in a variety of industries for social media monitoring, reputation management and voice of the customer programs. Based in Boston, MA, Lexalytics has offices in the US and Canada. For more information, please visit http://www.lexalytics.com, email sales(at)lexalytics(dot)com or call 1-617-249-1049. Follow Lexalytics on Twitter, Facebook, and LinkedIn.