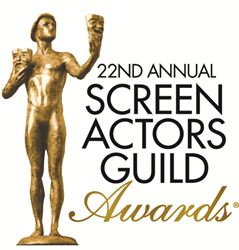 I'm thrilled to be part of this outstanding event!
Los Angeles, CA (PRWEB) January 27, 2016
Voice Actor Marian Massaro has been chosen to live announce The 22nd Annual Screen Actors Guild Awards®. The coveted event will be simulcast on TNT and TBS live Saturday, January 30, 2016, at 8 p.m. (ET) / 5 p.m. (PT) from the Los Angeles Shrine Auditorium. "I was thrilled when I received my SAG card several years ago," Massaro explains. "And I'm so honored to announce this year's awards and work with this amazing team." Massaro has live announced other prominent shows, including The Critics Choice Television Awards, and this year will mark her fifth consecutive year as live announcer of the New York Emmy Awards.
The Screen Actors Guild Awards®, honors outstanding performances from 2015 in film and television, including the distinctive ensemble awards. A highlight of the evening will be the presentation of the SAG Life Achievement Award to Carol Burnett by Tina Fey and Amy Poehler.
Besides live events, Massaro is a multi-talented sought after voice actor who has many national commercials to her credit. She also works with various stations including The Golf Channel and MSNBC.
Massaro is represented in Los Angeles by Vanessa Gilbert of TGMD, and in New York for TV affiliate and radio imaging by Nate Zeitz of CESD. She is also available for station use via Benztown Voiceover Group. Massaro is managed by Paul Wintner of Wintner Artist Management.
About Marian Massaro
Marian Massaro is a native New Yorker who credits her success as a voice talent to years of acting and improv. Live announcing has been one of her most rewarding experiences. She also voiced spots for Pope Francis' recent visit to the United States.
Marian's a proud member of SAG-AFTRA, Actor's Equity, The Television Academy, and The National Academy of Television Arts & Sciences. Visit her site at http://www.marianmassaro.com/ for more information.
#sagawards