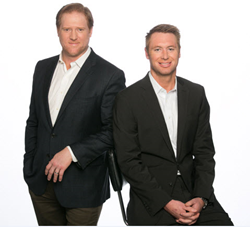 " We are very pleased to welcome John and Danny to the PCB team. Their addition greatly enhances our dominant presence in the San Francisco multi-family market." - Steve Pugh, President, Paragon Commercial Brokerage
San Francisco, California (PRWEB) February 02, 2016
John Antonini brings nearly a decade of experience in the San Francisco multifamily market working previously at Colliers International. He has sold more than 550 units with a total sales volume over $150,000,000. John represents both buyers and sellers of investment real estate in San Francisco focusing on multifamily, mixed-use, and add-value property. A San Francisco native, John has a professional background in tax and estate planning. "Investors in San Francisco are always asking to see 'Good Deals'. Good deals come in all shapes and sizes. Paragon Commercial Brokerage offers a platform that caters to both the large and small investors. It feels good to know when I pick up the phone, the resources are available to help my clients meet their needs." states John.
Daniel Foley got his start in commercial real estate in San Diego before moving back to his native Bay Area to focus on the acquisition and disposition of San Francisco multifamily and mixed-use investments. Daniel has been in the business since 2012 and has since participated in the sale of over $50,000,000 in transactions. Prior to joining Paragon Commercial Brokerage, Daniel was a member of Colliers International Multifamily Advisory Group. Daniel grew up in the North Bay and currently resides in San Francisco. Daniel is a member of U.L.I (Urban Land Institute), San Francisco Association of Realtors and the Surfrider Foundation.
About Paragon - Paragon is a locally owned and managed real estate company in the Bay Area that conducts business across all market segments – residential and luxury home sales, investment and commercial property sales and leasing, new home sales and rentals. We have built our success on preparing for and ensuring yours.
http://www.paragon-cb.com, 1700 California Street, ste 310, San Francisco, CA. 94109. 415-874-5044.