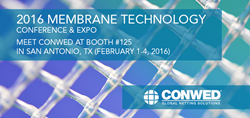 Minneapolis, Minnesota (PRWEB) January 27, 2016
Conwed, the leading plastic netting manufacturer in the world, will display its latest reverse osmosis (RO) feed spacer technology at the 2016 Membrane Technology Conference & Expo in San Antonio, TX (Booth #125 – February 1-4, 2016). Organized by the American Water Works Association (AWWA) and the American Membrane Technology Association (AMTA) this event will showcase how membrane technology can enhance water reliability and water quality while revealing new directions in water treatment technologies and wastewater membrane bioreactor applications. With over 1,200 attendees, it is the premier event for membrane and materials technology and their applications in water, wastewater and industrial treatments in North America.
Conwed manufactures RO feed spacers for reverse osmosis applications. The RO process involves pressure application of dissolved species water solution against a float sheet semipermeable membrane. The water passes through the membrane as permeate. All particulate species and majority of dissolved ions existent in the feed water, are rejected and flushed out to the drain as a concentrate stream. In order to function as a desalination device, the flat sheet membrane is configured as a spiral wound membrane element. The membrane element structure contains also a feed spacer that separates the surfaces of adjacent membrane envelopes. The feed spacer, also known as scrim, mesh, net or netting keeps the feed channel open, allowing feed water to flow inside the feed channels, along the membrane element. The objective of the feed spacer, in addition to keeping the feed channel open, is to promote turbulence of the feed stream.
"Feed spacers are an essential component of RO spiral wound elements and Conwed is proactively studying, testing and evaluating how feed spacers can impact reverse osmosis performance. Our focus is on tackling the three most important challenges in every RO system: pressure drop, membrane damage and biofouling," said Ivan Soltero, Sr. Strategic Marketing Manager at Conwed.
For many years, RO innovation has primarily come from membrane developers, so Conwed understands the value of finding alternatives to improve RO systems but from a feed spacer development perspective. Conwed has embarked in a major R&D effort, in collaboration with university researchers, corporations and material suppliers to develop the next-generation feed spacers that could impact RO performance.
The scarcity of drinkable water worldwide remains a global concern and countries are increasingly supporting seawater and brackish water desalination technology. Reverse osmosis is a water treatment technology widely used around the world. It accounts for more than half of the desalination capacity installed worldwide. The International Water Management Institute, a non-profit scientific research organization that focuses on sustainable water use in developing countries, estimates that by 2025 nearly 1 billion people will lack access to fresh, drinkable water.
"We understand the importance of addressing a global concern such as providing drinkable water to all. How could the next-generation feed spacer impact RO performance? We're on a journey to find the best answer," said Soltero.
In addition to a full line of feed spacers, Conwed also manufactures extruded cylinder tubes, sleeves, diamond and square extruded netting for filter pleat support and core protection with a wide range of customization options. For a complete overview of Conwed in reverse osmosis applications visit http://www.conwedplastics.com/ro
About CONWED
Conwed is the leading plastic netting manufacturer in the world. Conwed manufactures extruded, oriented and knitted netting with unique customization capabilities. Headquartered in Minneapolis, Minnesota, Conwed has five manufacturing locations on two continents and a global distribution network.