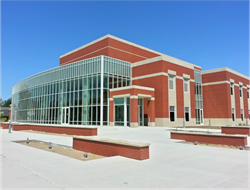 Jenison, MI (PRWEB) January 28, 2016
According to a previously published study* just under one billion birds are dying in the United States each year after colliding with buildings. These tragedies have made the need for a "bird friendly" glass option much more important. With that in mind Pleotint, LLC, recently announced that their self-tinting Suntuitive® Glass is a part of the solution to this problem.
"Unfortunately, birds misinterpret the reflection of trees, grass, water, and sky in glass and fly into it, often resulting in death," Pleotint Vice President Chad Simkins said. The desire to prevent bird-glass collisions is increasing and we see this translating into cities such as San Francisco, Toronto, and others enacting bird- friendly building codes to reduce the hazards the built environment can have on the lifespan of birds."
Suntuitive Glass became the first and only dynamic glass to receive a bird-friendly label from the American Bird Conservancy (ABC), the leading bird conservation specialist in the Western Hemisphere.
"Each year, 20 to 50 birds die from colliding with a single building, and 2 to 3 for a home, it's a staggering problem when you look at the national data," according to Glenn Phillips, Bird Collisions and Development Director for ABC.
About one third of bird species are in significant decline and are on the verge of becoming endangered. According to ABC, windows are the third leading cause of population decline, trailing only loss of habitat and competition with invasive species.
"Suntuitive Glass is an innovative solution that offers architects design flexibility. It also is an ideal alternative to patterned glass because it offers many other benefits, like daylighting, without aesthetic limitations," Simkins added.
To learn more about bird-friendly design, visit http://www.BirdSmartGlass.org. For more information on self-tinting Suntuitive Glass, please visit http://www.Suntuitive.com.

Studies commissioned by the U.S. Fish and Wildlife Service and the Smithsonian Institution (published January 2014) show that up to 988 million birds in the United States die each year in collisions with buildings.