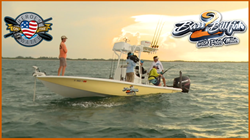 Dallas, Tx (PRWEB) January 26, 2016
Bass2Billfish with Peter Miller, a highly popular fishing show, provides an opportunity for Heroes on the Water advocates Jason Austin and Kody Wilson to fish in beautiful Stuart, Florida, in their upcoming broadcast.
The first episode is scheduled to air on NBC Sports on Wednesday, January 27, 2016 at 1:30 PM Eastern, and again on January 28, 2016 at 2:00 PM Eastern. In addition, the show will be aired on World Fishing Network in the upcoming weeks.
The Heroes on the Water episode, hosted by the Palm Beach Marriott Singer Island Resort & Spa, gives Bass2Billfish host Peter Miller opportunity to provide a premier fishing experience while giving each guest a platform to talk about their experience while explaining their passion for a specific cause.
"It is exciting to be a part of Peter Miller's show, and we are happy to be on Bass2Billfish in 2016," said Jim Dolan, founder and president of Heroes on the Water. "Heroes on the Water began with folks like Kody in mind – those who had served us so valiantly and needed support in returning home. We are proud to have Kody and Jason as part of the HOW family, to have the opportunity to make others aware of our passion to support these fine folks."
Bass2Billfish with Peter Miller is a Telly Award Winning, nationally televised hybrid fishing/reality show airing on NBC Sports and the World Fishing Network. Host Peter Miller — professional angler and "3 Time World Sailfish Champion" hosts guests in various popular fishing locations in Florida.
Heroes on the Water, a 501(c)3 non-profit, provides therapeutic kayak fishing to all veterans, active military and their families. The kayak fishing is proven to reduce the impact of PTSD and traumatic brain injury effects while providing an opportunity for those who have served this country to reconnect and return to an active, positive home life.
Check your local listings to find the next episode of Bass2Billfish featuring Heroes on the Water.
About Heroes on the Water:
Heroes on the Water is 501(c)3 non-profit, founded in 2007 to fulfill a need to provide veterans and active-duty military and their families a way to reconnect and refuel. OUR MISSION IS to help warriors relax, rehabilitate and reintegrate through kayak fishing and the outdoors. To learn more, visit our website at http://www.heroesonthewater.org.