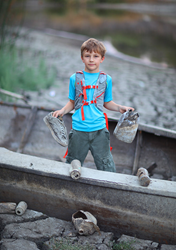 It was amazing to see all of the things that were down at the bottom of the pond!
San Marcos, Ca (PRWEB) February 02, 2016
When nine-year-old Connor Berryhill's beloved local pond started to dry up as a result of southern California's ongoing drought, he saw opportunity instead of tragedy. Inspired by having once seen a duck hurt by discarded fishing line, he gathered some friends to clean up the trash that was suddenly visible -- and accessible -- in the low waters of Jack's Pond.
"It was amazing to see all of the things that were down at the bottom of the pond," Connor Berryhill told a reporter for The Coast News Group. Connor and his friends, aged 6 to 9, found everything from shoes and socks to a Halloween wig, lots of fishing line, and even an old rowboat.
Connor plans to continue cleaning the pond as the water recedes and more trash becomes visible, in hopes that when the pond finally fills back up again, local creatures will be able to enjoy clean water.
Connor has displayed this penchant for stewardship -- and a particular eye for trash cleanups and recycling -- ever since the age of 4. He's participated in cleanup efforts at Joshua Tree and on beaches in California and Hawaii, as well as providing classroom and peer presentations to raise awareness about the highly endangered Hawaiian monk seal.
"It's been incredible seeing him have such a passion for something we take for granted, such as picking up trash after ourselves," his mother Lynel said. "When we are at an amusement park and he sees trash he picks it up…as much as he can. Of course, all of the adults are worried about him touching stuff that could be dirty, but he admonishes us, 'An animal could get caught in this.'"
Connor's example reminds all ages that even the smallest among us has the potential to make a huge impact on protecting -- and preserving -- the creatures and lands we love. All it takes is one person, no matter how small or young, who's willing to speak up and start the ball rolling.
To learn more about Connor the Micro-Activist and his "Micro Projects" that show even the smallest among us can have a huge impact, visit http://www.microactivist.org or contact at connor(at)microactivist(dot)org.