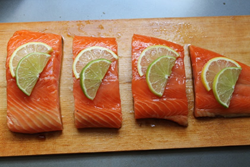 Fresh Salmon is a good source for heart-healthy omega-3 fatty acids -- save 10% off all fresh Salmon purchases at FreshSeafood.com this February 2016 with promo code "HEART216"
SEATTLE, WA (PRWEB) January 27, 2016
Pure Food Fish Market in Seattle's world-famous Pike Place Market today announced that it would offer 10% off all fresh Salmon purchases through its online market at FreshSeafood.com for the entire month of February 2016 in honor of Heart Health Month. Customers simply use promotion code "HEART216" during the FreshSeafood.com check-out process to enjoy these savings - the offer runs February 1-29, 2016 and is available to anyone shipping within the United States and shopping online.
For four generations, Seattle's Pure Food Fish Market has stocked the highest quality, fresh seafood available at its location in the world-famous Pike Place Market. When the demand to enjoy the Northwest's premium fresh seafood outside of greater Seattle grew, the online shopping experience at FreshSeafood.com was born to offer customers the same fresh product as if they were visiting the Seattle marketplace. Pure Food Fish Market hand-cuts and packages every order received online at their Seattle location at the time of the order and then ships them with special gel ice via overnight Federal Express to any location across the United States.
Fresh King Salmon is one of the healthiest forms of protein for our bodies, as it is not high in saturated fat, and it is also a good source of omega-3 fatty acids. "Omega-3 fatty acids benefit the heart of healthy people and those at high risk of - or who have - cardiovascular disease. Research has shown that omega-3 fatty acids decrease risk of arrhythmias (abnormal heartbeats), which can lead to sudden cardiac death. Omega-3 fatty acids also decrease triglyceride levels, slow the growth rate of atherosclerotic plaque and lower blood pressure (slightly)" - provided by the American Heart Association online.
FreshSeafood.com offers a variety of fresh Salmon recipes and cooking tips for customers simplifying
preparation for anyone - even first-time fresh Salmon eaters. To peruse our recipe catalog and to shop fresh Salmon, visit: FreshSeafood.com.
Pure Food Fish Market offers its fresh King Salmon in whole fish proportions, as well as in fillet or steak cuts. Other heart-healthy fresh seafood that the American Heart Association recommends include: Crabs, Scallops, Halibut, Trout, Shrimp, Cod, and Catfish - all are available at FreshSeafood.com.
For a full list of fresh seafood products, visit Pure Food Fish Market online at FreshSeafood.com.
About Pure Food Fish Market:
Pure Food Fish Market is located in the heart of downtown Seattle in the famous Pike Place Public Market. Anyone who has visited Washington State knows that Seattle is the place for seafood. Tourists and locals alike come to the Pike Place Public Market to buy fresh seafood from Pure Food Fish Market, Seattle's most popular seafood retailer. Our family has been down at the market for four generations stocking an abundant assortment of delicious fresh seafood from around the world but specializing in the fresh seafood from the Pacific Northwest. Today, Pure Food Fish Market offers their fresh seafood to the entire country via FreshSeafood.com where they overnight ship via FedEx to ensure freshness upon delivery.