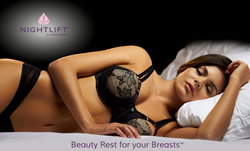 BROOKLYN, New York (PRWEB) February 01, 2016
Classic Shapewear, a leading innovator in the lingerie and shapewear industry, is excited to announce the debut of their NightLift line.
Available to purchase now, NightLift introduces innovative support for breasts during the night. While most brassieres provide support from gravity's downward pull during daytime hours, support is rarely available from the lateral gravitational pull experienced during sleep. This pull, over time, can cause breasts to become stretched and splayed for back sleepers, and uneven and compressed for side sleepers.
NightLift sleep support lingerie corrects gravity's pull on women with a size B or larger breast by providing individual support for each breast. This allows back sleepers to have each breast held firmly, yet comfortably, in place. The dual support keeps the breasts separated and allows side sleepers to avoid breast compression and wrinkling over time.
The NightLift collection is available in sizes 32B–44DDD. In addition to offering superior support, the line also boasts a luxe and sensual profile, allowing the wearer to feel sexy and supported. The lightweight molded foam cups are complemented by soft, breathable microfiber and lace patterns. The line is proud to provide support without the use of under-wires or elastic compression.
The NightLift line also features a camisole and playful baby doll nightie design as well as two panty options.
About Classic Shapewear
Classic Shapewear offers a wide variety of shapewear products for both women and men. From waist cinchers, plus-size bras and swimsuits, to various body shapers and activewear, Classic Shapewear carries a diverse array of products to meet every potential shapewear need. Furthermore, Classic Shapewear carries the highest quality, most renowned shapewear brands available at affordable prices, and places customer service as one of its top priorities. For more information about Classic Shapewear and the products it offers, please visit: http://www.classicshapewear.com/