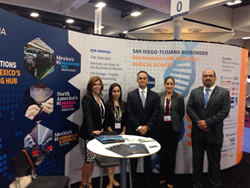 Tijuana, Mexico (PRWEB) January 28, 2016
Baja California´s planning committee is preparing to showcase the State as the strongest cluster in the country. Representatives from Proméxico and State Secretariat for Economic Development, The Secretary of Economic Development in Tijuana, industry leaders and EDCs will host a conference titled Success Stories of Manufacturing in Mexico featuring executives from Breg and NEOTech as speakers.
Additionally, the Baja California delegation will be exhibiting at booth 1989, with a schedule of over 20 targeted meetings with medical device companies. Also a networking cocktail will be held on Wednesday 10, at 4:00 pm.
Mexico has been rapidly scaling up across the medical device global industry, nowadays is the 9th medical devices producer worldwide, the main exporter in Latin America (mainly to U.S. France and Ireland), and also the leading supplier for US in the industry. The country´s industry is mainly concentrated in eight states, of which Baja California represents the largest number of companies; with 69 export manufacturers, and also the largest -and more experienced- workforce in the country with over 54,000 jobs.
Baja California`s location just minutes from San Diego, integrates in one platform Mexico´s most robust manufacturing base and U.S. forth life sciences cluster with top R&D capabilities, creating the most diverse and sophisticated bi-national concentration in North America for Medtech according to Promexico.
Major companies operating in the state include Medtronic, Greatbatch, Masimo, Flex, Fisher & Paykel, Augen, CareFusion, Haemonetics, Essilor, Lancer, just to mention a few. In addition, the state business ecosystem has fostered the development of a certified supplier base and a flexible manufacturing service offer. Academia has done its part also, talent attraction has not represented a problem for established industry, there is a 30 years experienced workforce pool and over 40 universities, the top 4 with strong linkage to the industry have developed specialized curricula and technical programs to meet industry requirements.
In the last year, two global players in the industry expanded their manufacturing footprint in the city, Greatbatch, the New York based manufacturer of implantable medical devices, invested $35million to build its second manufacturing facility in the city, starting 2015 will produce 4.5 million units for cardiac rhythm modulation, neuromodulation and implantable orthopedics. Also Flex, a multinational company that provides design and manufacturing for various industries, inaugurated in October a $20million Center of Excellence where will produce medical equipment and devices to treat and diagnose cardiovascular diseases, diabetes, hearing impairment, neurological diseases and others.
Promexico, Secretary of Economic Development of the State, Secretary of Economic Development of Tijuana, and EDCs are important links if you are interested in establishing a manufacturing operation in Mexico, they will be meeting one-on-one with company executives during the show, contact Alejandra Portugal (alejandra(at)tijuanaedc(dot)org) to reserve your time with our business specialists. Additional to a business meeting, join us at booth 1989 on February 10th at 4:00pm for beer and networking.